Literary passions translate to national honors for local staffers
Two local librarians add to Prescott Library's reading selections
By
Cindy Barks
|
Cindy_Barks
Originally Published: January 12, 2018 5:59 a.m.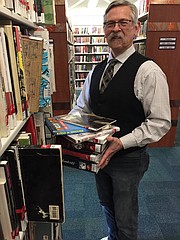 Thanks to two long-time employees at the Prescott Public Library, patrons have a wide selection of sometimes hard-to-find reading categories: graphic novels, and audiobooks for young adults and children.
Russ Miller, a library employee for 17 years, and Jennifer Kendall, an eight-year employee, have both taken their literary passions to another level, benefitting the library along the way.
And national organizations have taken note.
Miller, adult services librarian has been instrumental in growing the library's extensive collection of graphic novels.
"He really has led the way in selecting materials to create our robust collection of graphic novels," said Martha Baden, library manager of public services, said of Miller, who will retire today, Jan. 12, after 17 years.
"For many years he has reviewed for Library Journal, a professional publication that serves libraries across the country as librarians base purchases on reviews," Baden said. "Upon his retirement, Library Journal named Russ 'Reviewer of the Year."
In the award, the Journal's Annalisa Pesek said of Miller: "Distinguished, eloquent, and adventurous, Russell Miller is a valuable member of the LJ family of reviewers. In addition to covering an impressive range of graphic novels for Xpress Reviews, he also evaluates historical fiction and thrillers …"
Baden noted that Miller "has many, many talents," including bagpiper, comic artist, and "wonderful writer and reviewer with a passion for graphic novels."
For fellow library employees, she added, "Every card for every staff member always includes a little Russ comic."
Kendall, lead librarian for youth services, has focused on young readers – both at the library, and at the Mile High Middle School, and the Yavapai County Juvenile Detention Center, where she leads book clubs.
Baden said her record with those programs made her "an amazing candidate" for the 2018 Odyssey Award Committee, an American Library Association's award for outstanding audiobooks for young people.
"Jennifer has such a passion for literature," Baden said. "(She) is so well-read and has so influenced children and tends in the area with her passion for books …"
Baden noted that the Odyssey group is a "very small and very distinguished committee" that is made up of librarians and teachers from around the country, and Jennifer was invited to participate."
Over the past year or so, Kendall said she has listened to 70 to 80 audiobooks for young people to help identify the best among the entries. Meanwhile, she has been able to add many more audiobooks for young people to the library's inventory, and has been able to recommend those selections to the library's young patrons.
Kendall will travel to Denver later this month to confer with the Odyssey Award Committee to make the final decision about this year's winners, Baden said.
More like this story
SUBMIT FEEDBACK
Click Below to: