Police arrest 3 on shoplifting, drug charges in Prescott Valley
New merchandise from Walmart, 2 Home Depot stores found in vehicle
Originally Published: January 11, 2018 7:10 p.m.
Updated as of Friday, January 12, 2018 6 AM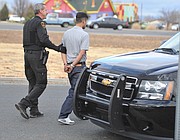 Prescott Valley police officers were able to bust a group of serial shoplifters soon after being notified of a shoplifting in progress at the Walmart Supercenter in Prescott Valley on Tuesday, Jan. 10, according to a news release.
The primary suspect was described as a Hispanic man wearing a black hoodie and red ball cap, according to a news release from the Prescott Valley Police Department. Police were told the man left the store parking lot in a white Chevrolet Impala with Colorado license plates and traveled south on Glassford Hill Road.
Soon after, PVPD officers driving in the same direction spotted the vehicle with three occupants in it. The described suspect was driving the vehicle, police reported. After pursuing the vehicle for some time, officers were eventually able to pull the vehicle over in a parking lot near Highway 69 and Glassford Hill Road.
As soon as the officers walked up to the vehicle and began speaking with the driver, they quickly noticed drug paraphernalia where each of the occupants was seated, according to the news release. While searching the vehicle, officers discovered new merchandise with no receipts from the Prescott Valley Walmart, the Prescott Valley Home Depot and the Cottonwood Home Depot. All three suspects were arrested and transported to the Yavapai County jail.
Daniel Dominguez Jr., 26, was booked for possession of paraphernalia and possession of a narcotic drug with the weight of 0.1 grams – both felonies.
Michelle Dockins, 32, was booked on possession of paraphernalia and accomplice to shoplifting – both felonies.
Angelo Vergas, 26, was booked on possession of paraphernalia, shoplifting, organized retail theft – all felonies; and driving on a suspended driver's license – a misdemeanor.
"Everyone is responsible for keeping our community safe," said PVPD spokesman Jerry Ferguson. "If you see suspicious activity, report it to local law enforcement or a person of authority immediately."
Police ask that witnesses describe specifically what they observed, including:
• Who or what was seen;
• When it was seen;
• Where it occurred; and
• Why it's suspicious.
Prescott Valley Police Department can be contacted at 928-772-9267 for non-emergencies, 911 for emergencies.
More like this story
SUBMIT FEEDBACK
Click Below to: