Phoenix Symphony performs Bernstein, Brahms on Jan. 14

Originally Published: January 11, 2018 6:51 p.m.
The Yavapai Symphony Association kicks off the new year with the Phoenix Symphony, performing on Sunday, Jan. 14.
Featured is music by Leonard Bernstein ("Symphony No. 1 "Jeremiah"), Johannes Brahms (Symphony No. 1") and Gustav Mahler ("Adiago from Symphony No. 10"), according to a news release from Sue Bray, member of the Yavapai Symphony Association Board of Directors. The orchestra will be led by Tito Munioz, musical director and principal conductor and Jennifer Johnson Cano, mezzo soprano soloist, will join.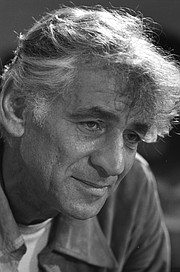 The show starts at 3 p.m., with a pre-concert lecture at 2 p.m., at the Yavapai College Performing Arts Center, 1100 E. Sheldon St.
Bernstein's "Jeremiah" began life as a "Hebrew song" for soprano and orchestra based on the tale of Jeremiah in the Book of Lamentations after the composer graduated from Harvard University in 1939, according to the release. When Bernstein began to compose his first major symphony in 1942, he realized that the "Hebrew song" would be an appropriate addition to his plans.
The Hebrew text in the piece is sung by Cano who joined the Lindemann Young Artist Development Program at the Metropolitan Opera after winning its National Council Auditions in 2008, the release stated. She's been awarded numerous honors, such as First Prize winner of the 2009 Young Concert Artist International Auditions, the 2011 Sara Tucker Study Grant, 2012 Richard Tucker Career Grant and 2014 George London Award.
Brahms was 21 when he composed his first symphony, having wanted to create a piece with the same scope and power as Beethoven's ninth symphony. He did not allow it to be published until more than 20 years later. "Mahler's Symphony No. 10" was his final composition and he died before its completion, the release stated. He began writing it in 1910 and another composer, Ernst Krenek, developed his draft during the 1920s.
The works presented in the concert are sure to please Prescott, said David Dunn, president of the Yavapai Symphony Association.
"Leonard Bernstein's compositions are a great favorite with our Prescott audiences," Dunn said. "We're delighted that the Phoenix Symphony will be playing one of his greatest works, not to mention the pieces by Brahms and Mahler. It should be a highlight of the concert season."
Tickets range from $29 to $42 and are available at the Yavapai Symphony Association Office, 228 N. Alarcon St., from 9 a.m. to 2 p.m. Friday, Jan. 12 as well as by calling 928-776-4255. Full-time college students can purchase any available ticket for $10.
For more information, visit www.yavapaisymphony.org.
More like this story
SUBMIT FEEDBACK
Click Below to: