I'm dead. Now what?
Make it easy on your family, put your affairs in order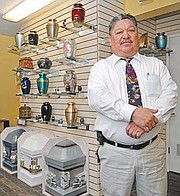 All good things come to an end. May as well make the aftermath of your death as palatable as possible for those dealing with your estate, whatever it may consist of.
It matters not your age and health. That proverbial bus could hit a patch of ice tomorrow and wipe you out at the mailbox. And you really never know when a blood clot could permanently shut you down.
Now is the time to do what you've put off for years — get your affairs in order. Just in case.
Here's what you need to know to get started.
Important papers
Collect them all in one place and tell someone where they are, preferably a trusted family member. These might include:
Social Security card, living will, military records, and other legal documents.
Family contact information, and for lawyer, accountant, banks, investment firms, life insurance company.
Bank account information, safe deposit box key (all keys), titles to vehicles, deed to the house, last year's tax return. Consider adding another person to titles and property to avoid your estate going through probate.
Monthly bills, property tax bills, credit card companies, passwords if paying bills online. All passwords for computers and electronic devices, garage door opener.
Your "treasures"
Walk through your home with family members and/or friends and write down items they covet and would want after your death. Keep the list with your important papers.
There's nothing wrong with doing this, even if it makes others uncomfortable. Consider releasing these items sooner rather than later.
If you have hobbies or collections, create a list of people who might appreciate "inheriting" your artwork, supplies or equipment that family members don't want. Otherwise, you may be surprised that your treasures go to the thrift store or dump.
Several books on the market can help this process, including one called "The Gentle Art of Swedish Death Cleaning: How to Free Yourself and Your Family from a Lifetime of Clutter" by Margareta Magnusson.
Not yet dead?
In case you don't die right away, but are incapacitated, give permission in advance through a durable power of attorney for health care and a regular durable power of attorney to someone you trust. Without your consent, your caregiver won't be able to access information, talk to your doctor, or pay your bills.
An advance directive comes into play when you get sick. Don't wait until that happens. If you know what kind of care you want or don't want, fill out a living will. That way, family members won't have to decide to take you off life support if you never wanted on it in the first place.
The durable power of attorney for health care gives a named person the right to make medical decisions for you if you can't do so. Be sure this person is willing to take this on — it's a big responsibility.
Discuss in advance if you want to be an organ donor and what that entails. The country's oldest donor was nearly 93 when his liver saved the life of a 69-year-old woman. Visit DonateLifeArizona.org to register.
If you have pets, either leave money for their care or arrange with someone to take them on for the rest of their lives. You may want to leave some compensation for these caregivers.
Funeral/burial
Make your own final arrangements, thereby alleviating the burden of others and also guaranteeing your wishes will be followed after death. Pre-paying for burial and funeral expenses also locks in today's cost.
Affordable Burial and Cremation, LLC of Prescott Valley and Chino Valley provides an online form one can fill out that specifies what kind of funeral service you prefer. It also elicits information used in obituaries.
"About 25 to 30 percent of our families come in to pre-meet with us. We wish all of them did, but they don't," said Hector de los Santos, ABC's owner. He suggested calling different funeral homes for prices.
About 90 percent of de los Santos' business is cremation, with his average cost at $1,135, which includes medical examiner authorization (required by state law) and one certified death certificate. His average cost for burial is $3,500 to $8,000 depending on type of casket, if transporting out of state, and other services.
If you don't pre-arrange and pre-pay, the family must come up with funeral costs on short notice. So make sure something close to that amount of money is easily accessible by your trusted family member.
More and more, families write in the obituary, "In lieu of flowers, please consider donating to (blank) organization or charity." To avoid contributions to an entity in which you have no interest, write down the agency or agencies you wish to receive donations.
There are legal forms that can be filled out and signed by a notary, but it is probably best to consult with a knowledgeable attorney about setting up wills, trusts and estate planning.
More like this story
SUBMIT FEEDBACK
Click Below to: