Acoustic Eidolon kicks off Folk Sessions' 15th year

Originally Published: January 11, 2018 7:02 p.m.
Updated as of Thursday, January 18, 2018 6:09 AM
Folk Sessions kicks off its 15th year this year with Acoustic Eidolon returning for the first concert of the year.
He always looks forward to the group coming and has been friends with the duo ever since Folk Sessions was in its infancy, said Folk Sessions Director Tom Agostino. He's presented them at Folk Sessions concerts at least five times, Agostino said, adding it's a good concert to kick off that 15th year. The show is Saturday, Jan. 13.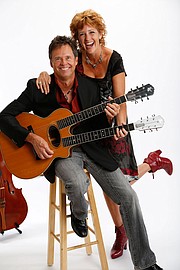 "Every year I've known them, they've been working musicians. They tour most of the year. They go to Europe twice a year. They tour US. They really own their craft," Agostino said. "Every time you see them, they're just better."
January also marks 20 years for Acoustic Eidolon, said Joe Scott, who plays the lovechild of a guitar and a banjo called a "guitjo" while his wife Hannah Alkire plays cello. They started 20 years ago as friends and fell in love a couple years into the journey and got married, Scott said.
Getting to do something he loves with the person he loves is pretty cool, he said. It feels as if it doesn't get any better than getting to travel all over the world and sharing experiences together because of a shared passion of music.
Scott said he started learning bluegrass on a five-string banjo and guitar at 14 years old. In 1991, he had the guitjo built, he said. It has two necks, one strung like a banjo with two additional treble melody strings and the other is strung like a guitar with an extra bass string, Scott said. He can play chords on both necks at the same time.
"I hoped to create my own sound on the guitar," Scott said. "I think to most people a guitar is a guitar and this has enabled me to have my own voice."
Alkire comes from a classical background and more than 20 years ago, she took the cello outside of the classical world to see what she could do with it. It brought her to his studio where the two of them first met, Scott said. The two have a love for varying styles of music, allowing them to write music in a number of them.
Employing a sound that blends Celtic, folk, world and Latin, the two of them could perform a Flamenco song one moment and to something by Queen or Led Zeppelin the next moment, Scott said.
"I think I would get really bored if every night I walked on stage and just did one style," he said. "We love the variety and we've found over 20 years that the audience enjoys it as well. We've got all ages coming to this show, so that's wonderful."
Tickets are $22 and available by calling 928-445-3286, by visiting www.folksessions.com or at the door. The show starts at 7:30 p.m. at the Prescott Center for the Arts, 208 N. Marina St.
They just returned from Europe, Agostino said. As such, Scott and Alkire will have some really nice stories to tell, he said.
"It'll be a nice experience for the audience, especially for folks who haven't heard them. At this point, a lot of people who come have become fans and they've heard them before and they just really look forward to their coming," Agostino said. "If folks haven't heard them, they're going to be in for a real treat. There's not too many cellists like Hannah Alkire."
More like this story
SUBMIT FEEDBACK
Click Below to:
This Week's Circulars
To view money-saving ads...