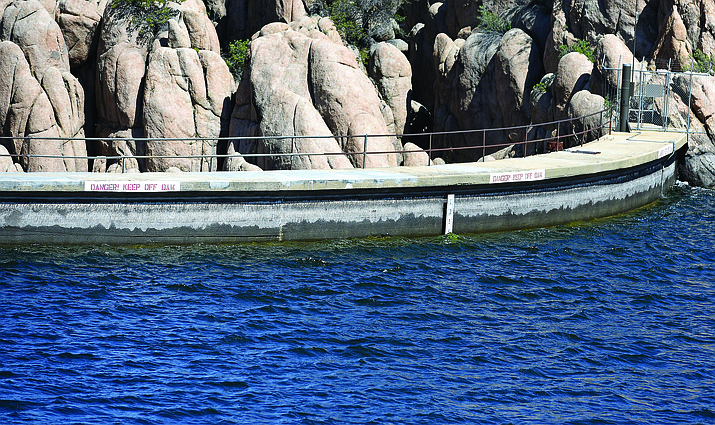 Originally Published: January 10, 2018 5:56 a.m.
For 99 years, valves on the Granite Creek Dam have allowed water to be released from Watson Lake — originally for irrigation purposes, and more recently, for recharging the aquifer.
Now, deteriorating and partially covered with sediment, the valves are in need of a major rehabilitation, say city officials.
In action on Tuesday, Jan. 9, the Prescott City Council took the second step toward that rehab project, approving a $939,000 contract amendment with the AMEC Foster Wheeler firm.
In October 2017, the council took the first step by approving a $170,000 pre-construction contract with AMEC Foster Wheeler for the initial engineering needed to fix the aging valves.
With that work now complete, the city's public works department took the second stage to the City Council this week.
Program Development Manager Steve Orosz told the council that the second-stage work would take place "primarily on the wet side of the dam."
The work is expected to get started in the coming months and will include the installation of a 52-inch sluice gate and large metal debris cage (trash rack) on the wet side of the dam.
The work will require the use of barges, as well as an underway dive team, and is expected to be complete by the end of July 2018.
Still to come is a third stage, which will involve work on the dry side of the dam. Orosz said that project is expected to go to the City Council shortly.
Overall, the valve rehab project is estimated at $2.1 million – money that will come from the city's water fund.
In response to a question from Councilman Steve Blair about how long the new valve would last, Public Works Director Craig Dotseth pointed out that the existing valves "are original to the dam," and have lasted nearly 100 years. "That's what this valve should be able to manage also," he said.
Watson Lake, which was built in 1919 to impound water from Granite Creek, contains two outlet pipes – one with a 36-inch-diameter valve, and another with a 48-inch valve.
The valves were built into the dam wall to allow water to be withdrawn for a variety of irrigation-related purposes.
When the City of Prescott bought Watson Lake (along with the nearby Willow Lake) from the Chino Valley Irrigation District in 1998, the city began releasing water from the lakes to supplement the amount being recharged into the aquifer at its airport-area recharge field.
In recent years, only the 36-inch valve has been operational, because the 48-inch valve is covered with sediment on the upstream side. The second phase will include a "thrust block to stabilize the 48-inch valve to protect against catastrophic failures," a city memo stated.
It added that the Arizona Department of Water Resources has directed that the valves need to be replaced — a point that Councilman Phil Goode emphasized. "I want to make sure that everyone understands that we don't have a lot of options here," Goode said. "It has to be fixed."
More like this story