Man shot by Forest Service officer was unarmed, attorney says
DAN ENGLER, Verde Independent
Originally Published: January 8, 2018 4:24 p.m.
Updated as of Tuesday, January 9, 2018 6:01 AM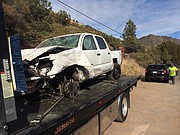 A Hutchinson, Kansas, man who was fatally shot by a U.S. Forest Service law enforcement officer while traveling through Oak Creek Canyon near Sedona on Jan. 5 was unarmed, according to news release from the family attorney and confirmed by the FBI on Monday.
Tyler Miller, 51, was fatally shot while on his way to a spiritual retreat, according to a release from the Hutchinson law firm Bretz & Young, L.L.C.
It states that Miller family attorney Matt Bretz has been in contact with the FBI, which is handling the investigation.
"According to the FBI, while driving on a curvy mountain road, Ty apparently lost control of his pickup truck and went off the road where his vehicle hit a large rock. It is unclear exactly what happened next, except to say that after Ty got out of his crashed vehicle a U.S. Forest Service officer shot Ty near the scene of the accident," the statement said.
"The FBI has stated that Ty was not armed," Bretz continued in the statement. "The FBI has further stated that they are conducting a full investigation and anticipate turning the matter over to the US Attorney's Office to determine what, if any, charges will be filed against the U.S. Forest Service officer."
FAMILY MAN
Miller been characterized in social media postings as a much-loved member of his community, and is survived by his high-school sweetheart and wife of 28 years, Darcy, and their four sons, the news release stated.
"He had an excellent reputation, a willing smile," said Amy Long, a client & community relations specialist for Bretz & Young. "He worked as a coach and was a much-loved member of our community."
The news release further stated Miller was in Arizona to attend a spiritual retreat. Miller owned TNT Bonding in Hutchinson.
"The family is not prepared to make a statement at this time, as they continue to reel from the shock of this incredible and unimaginable loss," the news release continued. "Ty was a much-loved husband and father and an important part of the Hutchinson community. He and his smile will be deeply missed."
On Facebook, Anthony Canning posted, "Growing up next door to the Millers and knowing Ty and how generous of a person he was, I want to say it was an honor knowing this man. He was definitely someone I looked up to and he taught me a lot about baseball and having fun at life. He was a role model and will be deeply missed by many. Prayers to his beautiful family and I hope you're playing catch with your dad in heaven."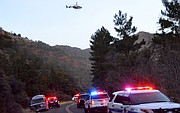 A former employee of Miller, Judy Gorden, posted, "My heart is heavy for the Millers' amazing family with lots of love. I work for him for 6 years. He is an incredible man, friend and yes No. 1 dad and husband. Much love and all prayers for Darcy and the boys."
The Friday shooting occurred at about 4:15 p.m., according to a Verde Independent newsroom scanner.
Sedona Police Department Commander Ron Bayne told The Verde Independent, "We responded to assist with several other agencies – Yavapai County Sheriff's Office, Coconino County Sheriff's Office, and Sedona Police Department -- to an officer-involved shooting call on State Route 89A at mile-marker 377 to assist the Forest Service, one of their officers reportedly involved in a shooting. We got here, stabilized the scene, and from there the investigation has been determined it will be handled by the FBI … with some resources from the Coconino County Sheriff's Office."
Commander Bayne confirmed the U.S. Forest Service officer involved in the shooting "is OK."
Bart Graves, Media Specialist for the Arizona Department of Public Safety, said details about the crash that preceded the shooting are unavailable. "Since this is still on-going investigation involving the FBI, I cannot release details of the original crash at this time," said Graves.
The Verde Independent is a sister publication with The Daily Courier.
Related Stories
More like this story
SUBMIT FEEDBACK
Click Below to:
This Week's Circulars
To view money-saving ads...