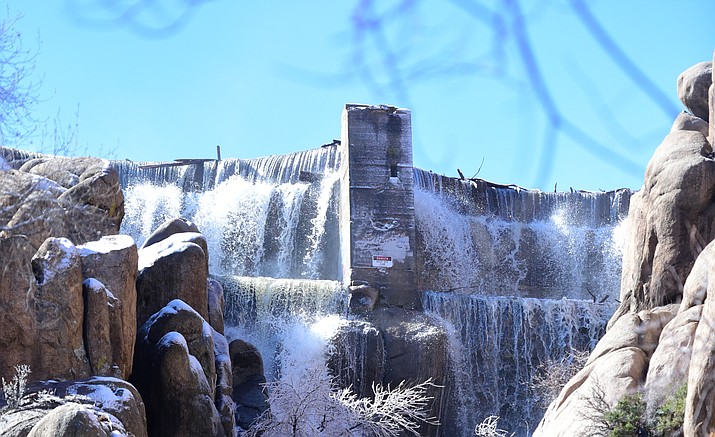 Originally Published: January 8, 2018 6 a.m.
A nearly $1 million dam repair at Watson Lake, and a $21.6 million loan for the wastewater treatment system work will be among the issues that Prescott City Council members will deal with this week.
The council has three meetings scheduled for Tuesday, Jan. 9: A 1 p.m. executive session; a 2 p.m. study session; and a 3 p.m. voting session. All three meetings will take place at Prescott City Hall, 201 S. Cortez St.
The voting session will include a $939,000 contract amendment for rehabilitation of valves on the Granite Creek Dam (Watson Lake).
In October 2017, the council approved a $170,000 pre-construction contract for the initial engineering that was needed to fix the aging valves that are used to regularly release water from the dam.
That work has now been completed, and the amendment under consideration this week would cover the second stage of the project – construction for the dam rehab project.
A city memo notes that the Granite Creek Dam was built as an irrigation impoundment in 1919 with two outlet pipes.
The valves are intended as a way to drain water from the lake for downstream water management, according to the memo, which added, "The Arizona Department of Water Resources has directed that the valves be replaced."
The inlet of the smaller of the two valves (36-inch) is in very poor condition, the memo added, and the conduit through the dam is starting to fail and currently leaks water. The larger valve (48-inch) is covered with sediment on the upstream side, and valve is inoperable and will be sealed.
Construction will include installation of a 52-inch sluice gate and large metal debris cage on the wet side of the dam. "This phase will utilize barges to perform wet-side modifications to isolate and protect the 36-inch outlet conduit," the memo stated. "Much of the work on the wet-side of the dam will be performed by the underwater dive team."
The council also will consider authorizing a $21.6 million loan through the Water Infrastructure Finance Authority (WIFA) for the first phase of the city's wastewater centralization project.
A city memo noted that WIFA provides low-cost financing to utilities throughout the state using EPA (Environmental Protection Agency) grant money to reduce the interest cost.
The city memo stated that the loan would be repaid through wastewater rates and wastewater impact fees.
In other action, the council will:
• Consider, during the 1 p.m. closed-door executive session, a possible sale and development of city-owned property in the downtown area.
Citing the confidentiality of executive sessions, City Community Outreach Manager John Heiney declined to offer details about the property.
• Hear a presentation, at its 2 p.m. study session, regarding the Floodplain Management January 2018 ordinance update on floodplain regulations.
• Hear a report on ordinance review and revisions on false alarm regulations.
More like this story