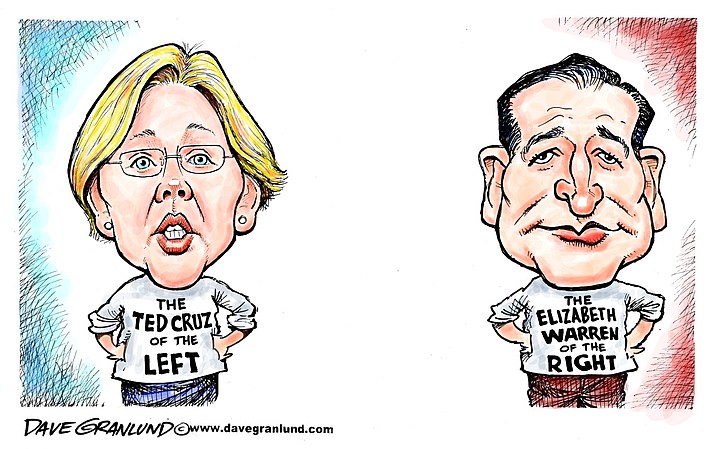 Originally Published: January 8, 2018 6:05 a.m.
Last month I penned a column headlined, "Here are some basics of journalism." Surprisingly, it was very well received. I had a number of emails and a couple of phone calls commenting on what I thought was a pretty simple column.
One caller had a suggestion: You should do more columns like that, because you do a good job explaining things. In fact, I would love it if you would explain the differences between liberals and conservatives.
Oh, oh. That suggestion is filled with traps in our hyper-partisan age, but of course that won't stop me so let's dive right in.
I have no idea where this will end up, and it's going to take more than just one column. I suspect it will take many.
However, the recurring theme of my columns at Prescott Newspapers, even before I became news editor of the Courier back when I was the associate editor overseeing the weekly papers, hasn't changed: We have to get past this partisanship divide and find a way to come together and heal this nation.
Conservatives are not my enemy, they are my neighbors. And liberals are not their enemy. We all love this country and want to see her continue to succeed. Tearing ourselves apart doesn't help us, it only helps our real enemies.
There is a reason Vladimir Putin is buying ads on social media to fan the flames of the culture war. Any step that helps to end this nasty divide would be the most patriotic thing any of us could do.
My recurring theme also happens to be our editorial board's theme. We avoid taking extreme positions on both sides, we have encouraged all columnists to stop the insults and to focus on policies and goals.
We want, through our opinions, to help bring Americans together.
Perhaps by undertaking this grand adventure to define what is a liberal and what is a conservative, and more importantly how did we get to where we are today, I can help further us coming together.
With a 500-word limit on each column, I won't be able to dive into subjects too deeply. This is more a Cliff Note's version of the Cliff Note's version of the Cliff Note's version. It's my hope that some of the subjects will inspire readers to do their own research.
Considering my space limitations, and the fact I am not a political science expert, this won't be an in-depth discussion, just a scratching of the surface. Hopefully, it will motivate some to do their own research, and come to their own conclusions. I'm not here to convert anyone. I would just like to help change the tone of our national debate.
Yes, that is quite a bit of hubris, but I don't see many others stepping forward to try and bring us together.
Journalists learn to set aside their personal beliefs when reporting. Some succeed, some do not. I have been in this business for 30 years and there are many times I have reported on subjects that I personally did not care for. The subject of one of those stories later thanked me for what I wrote.
I think I can be fair and balanced, but it is you who will decide.
So where do we start?
There are two men recognized as the fathers of liberal and conservative thought. Though neither was an American, both have played huge roles in the development of America. We wouldn't be the country we are without either of them.
In next week's column we'll talk about John Locke and Edmund Burke.
Email Ken Sain at ksain@prescottaz.com.
Related Stories