Arizona among the best states for pets
Survey ranks state third in nation for being pet-friendly
Originally Published: January 4, 2018 6 a.m.
TOP 10 STATES FOR PETS
1) Maine
2) Virginia
3) Arizona
4) Oklahoma
5) Colorado
6) Oregon
7) Massachusetts
8) Kansas
9) Rhode Island
10) Washington
Source: Safewise Report
If you're a pet lover, you can take comfort in knowing The Safewise Report has conducted a survey of all 50 states, and found that Arizona is third-best for pets.
The report said it had examined 2015 data from the Bureau of Labor, the Animal Legal Defense Fund (ALDF), and online pet resources like BringFido.com. It also ranked states based on the strictest anti-cruelty laws, highest percentage of no-kill shelters, most pet-friendly hotels and parks, and more.
"(Arizona is) also the 10th best state in the country for its percentage of no-kill shelters and 11th for its strict anti-cruelty laws," the report said.
And Arizona, like nine other states has no city-imposed dog breed restrictions. Those states without dog breed restrictions are Maine, Arizona, Connecticut, Hawaii, Minnesota, Nevada, New Hampshire, Oklahoma, and Virginia.
The Yavapai Humane Society's Elisabeth Haugan said the shelter provides evidence that the survey is accurate.
"Prescott in particular is incredibly pet-friendly," she said, and the number of adoptions completed by the shelter – just under 2,000 last year— is a good indicator of that. "I think another indicator of how pet friendly our state is, is all the local support we receive" from the community, she added.
The amenities that make life with pets better, such as trails or dog parks, also shows the area's commitment to pets' welfare and happiness, she said.
Hilary Hager from Humane Society of America says that "A truly safe community ensures that pets can stay with the people who love them, even when they fall on hard times, and ensures that animals already living safely in the community remain undisturbed."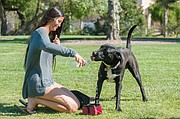 Given the state's 629 pet-friendly businesses, more than 900 pet-friendly hotels, and, ubiquitous dog parks, hundreds of hiking trails and for animals, Arizona seems to take pets seriously.
"There are a lot of stores around here that are pet friendly, and a lot of hotels and parks," said Tory Ivie at Prescott Valley's Pet Headquarters. "I feel Arizona is a very pet-friendly place."
What would have made Arizona No. 1?
The survey noted that Maine, the pet-friendliest state, has no breed restrictions, 76 dog-friendly beaches, hiking trails, and dog parks — and nearly 1,000 pet-friendly hotels. Maine also has no registered dog breeders, which the survey points out is not necessarily good, because unlicensed breeders can be a problem.
Although the survey did not say why, it found Mississippi to be the least pet-friendly state.
More like this story
SUBMIT FEEDBACK
Click Below to: