Rafter Eleven fetes grand opening
Originally Published: February 28, 2018 6 a.m.
Rafter Eleven, 2985 N. Centre Court, Prescott Valley, had its grand opening and ribbon cutting with the Prescott Valley Chamber of Commerce on Feb. 23. About 500 people attended between 3 and 8 p.m.
Marnie Uhl from the Chamber set up the ribbon cutting, and spoke on behalf of the Chamber, and Councilwoman Marty Grossman from the Town of Prescott Valley and Yavapai County Supervisor Jack Smith both spoke. Brad Newman provided live music.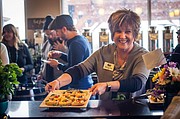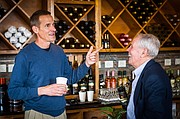 Stone Wasowicz, wine-maker from Christopher Creek, California, served wine.
Rafter Eleven had a wine tasting of its Signature 'Limitless' wines and provided complimentary hot, fresh bruschettas on home-made bread, roasted pecans, almonds and walnuts; finished in fresh olive oils and sea salts. They also served mini scones and had a cheesecake bar with liquer-infused chocolate sauces.
The No. 1 thing Rafter Eleven does is create a place where all of the communities can connect. The purpose of Rafter Eleven is "connection." It's the place to meet between Phoenix and Prescott. It's a place for meetings, parties and celebrations. It's a place to bring family and friends together, according to owner Dawn Wasowicz.
"Rafter Eleven is the name of our family ranch," she states on her Facebook page. "My great-grandfather, Dan, bought the land and named it Rafter Eleven (because it felt like home). He then began our legacy of ranching in the early 1900s.
"The ranch sits at the base of Mingus Mountain in Yavapai County and today we have about 500 head of cattle. Bill Fain, my dad, a rancher, a business-man and the visionary behind Prescott Valley is the very embodiment of everything that is Rafter Eleven. His dream was to create a town, this town, and provide opportunity for everyone in it. The Rafter Eleven brand is the actual brand my dad put on every single cow and today is a symbol of quality in a home-like environment."
More like this story
SUBMIT FEEDBACK
Click Below to: