Paper or plastic? ... or neither
Convenience and environment — both served by reusable shopping bags

By
Nanci Hutson
|
HutsonNanci
Originally Published: February 23, 2018 6:02 a.m.
Mallory Ronaldson and her daughter, Ashley Anderson, came prepared with their own reusable grocery bags on a recent trip to Trader Joe's in Prescott.
The two said they are mindful about supplying their own bags because their bags are sturdier and more environmentally friendly, too. Because the bags are reused, they don't immediately end up in a trash compactor.
At Trader Joe's, customers can choose doubled paper bags with handles, but, for food safety reasons and liability, Trader Joe's staff are not allowed to repack the bags if customers bring them back to the store. Instead, staff will accept the bags to be recycled.
Ronaldson said she eschews single-use plastic bags, which are standard in many of the larger grocery stores and shopping centers because, she says, the plastic bags are likely to become road litter or add to landfills.
Ronaldson said she would like Arizona to ban the use of plastic grocery bags, the way California did in 2016.
Far from banning plastic bags, however, Arizona lawmakers last year passed a law that prevents cities and towns from banning the bags within their communities. As a result of that law, Bisbee last year rescinded its ban on plastic bags, which it had created in 2012.

With local bans of plastic bags now illegal in Arizona, Prescott officials aren't about to ban them.
But interviews with area grocery shoppers, including those who rely on the convenience of plastic bags, suggested that they wouldn't oppose a ban on plastic bags, as long as alternatives were available — like low-cost, reusable plastic or polyethylene bags that can be washed and used for months at a time before they must be replaced.
All area grocery stores sell a variety of reusable bags, ranging in price from 99 cents to the $5, canvas or burlap bags. Some grocery stores also sell insulated, shoulder bags, which run a few dollars more.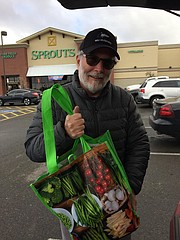 Natural Grocers, in Prescott, doesn't supply any bags. Customers bring their own or can use some of the stores' cardboard boxes, available at no charge near the front doors.
Barb Caouette, of Prescott, said she keeps an ample supply of reusable bags of different materials and sizes in the trunk of his car to accommodate most of her grocery and other shopping needs. She mentioned an oilcloth bag she uses just for the local Farmer's Market.
"I've used them forever," Caouette said of her reusable shopping bags, which she washes. She said she finds them in various stores, for little or no cost.
Caouette said she would be in favor of a plastic bag ban because the bans are, "terrible for the oceans and the landfills."
At Sprouts in Prescott Valley this past week, Wally Parks of Dewey loaded up his car with groceries packed in several reusable bags.
"When we remember," Parks joked about their preference for the use of reusable over either plastic or paper grocery bags.
Parks admitted the biggest challenge relying on reusable bags is making certain they are in the car when it's time for grocery shopping. Otherwise, Parks said, he recycles the store's plastic bags for household trash bags.
Outside Walmart in Prescott, customer Ray DeCosta had a grocery cart full of items placed in the store's plastic bags. DeCosta said he makes an effort to either use those plastic bags for household purposes – at one time he used them to deposit cat litter, he said – or he return them to a stores recycling bin. He said he wouldn't object to finding a way to reduce the use of these plastic bags because they do "seem to end up all over the place."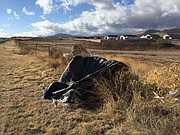 Meanwhile, several local shoppers said reusable bags will have to remain a voluntary choice, for stores and shoppers, alike, using inexpensive bags that provide for convenience and protect the natural environment, too.
But Ronaldson was adamant: "We have to find a way to get rid of these plastic bags," she said.
SUBMIT FEEDBACK
Click Below to:
More like this story