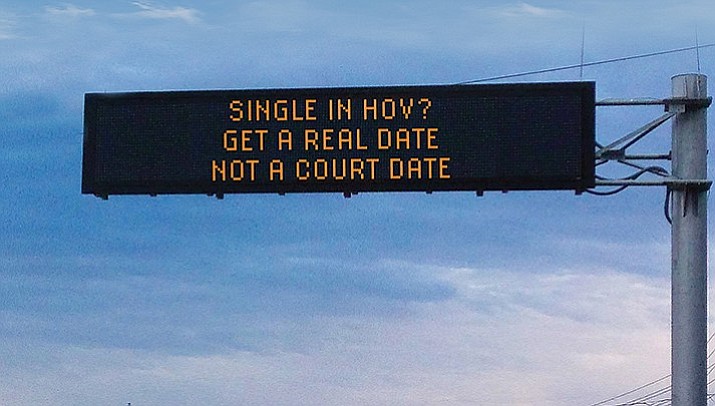 Originally Published: February 21, 2018 6 a.m.
You may recall the safety message contest hosted by the Arizona Department of Transportation (ADOT) last year.
Nearly 7,000 people submitted suggested messages and two won, according to an ADOT news release.
One came from the mind of Jim Atkinson and read "Single in HOV? / Get a real date / not a court date."
The other was penned by Ashley Servatius, who submitted "That's the / temperature — not / the speed limit."
Neither was given money for their clever quips. Rather, they were rewarded with certificates from ADOT and the pleasure of knowing they are the authors of messages that would appear on electronic boards above freeways throughout the state.
Well, ADOT is at it again, asking the public to participate in a second round of writing and submitting messages that encourage safe driving.
"The public's response to our first Safety Message Contest was incredible," ADOT Director John Halikowski said. "The messages ran the gamut from creative and funny to heartfelt and serious. We loved seeing that because it tells us that people are engaged with changing driver behavior and making safer the roads we travel every day."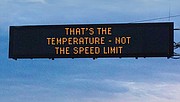 For the last few years, ADOT has made a concerted effort to impress the public's psyche with driver safety reminders by displaying quirky traffic safety messages on freeway signs. The messages are often related to current events and pop culture. The hope is they'll ultimately help to reduce vehicle crashes, 90 percent of which are caused by driver decisions, such as speeding, driving aggressively and distracted or impaired driving, according to ADOT.
This year's submissions can be made at azdot.gov/signcontest through Feb. 26.
There is no limit to the number of submissions one can make, but there are some guidelines to consider if one wishes to do well in the contest:
• The message must relate to traffic safety.
• Signs accommodate three lines and 18 characters, including spaces, per line.
• #Hashtags, phone numbers and website addresses are not allowed.
• No emojis.
After entries have been submitted, ADOT will select 15 finalists. The public will then vote for their favorites and the two messages that receive the most votes will appear on overhead signs above Arizona state highways.
More like this story