BASIS Prescott math students learn lesson in market research

By
Nanci Hutson
|
HutsonNanci
Originally Published: February 20, 2018 6:05 a.m.
If you want to be the smartest shopper around, there are some fourth graders you ought to meet.
Jonathan Mazon, BASIS Prescott fourth-grade math teacher, challenged his class to a market research project this year that culminated in an assembly where the students showcased their results.
These lively, creative and math-savvy students came up with some interesting analysis, complete with per unit product pricing, fancy poster board graphics, even jokes, along with supply-and-demand realities.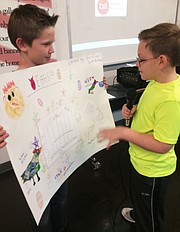 A particularly ingenious conclusion had to do with spinach prices rising in January. The reason? New Year's resolutions.
The student researchers determined that, come the first of the year, people opt to get in shape so they buy more spinach. As a result, groceries increase the price due to the higher demand -- simple economics.
Same goes for Red Delicious apples. Their price spikes at Halloween. At one store in October, the retail price was $1.49 for a 16-ounce bag. This month, the price at the same store for the same size bag was just under a dollar.
There's no mystery why the price of cereal goes up when school starts – children and breakfast food. Makes sense.
But students also recognized that prices vary with amounts. So sometimes a bigger box may be less than a smaller box.
For example, in November a 12-ounce box of Cheerios at one store cost $4.59 with a per unit price of .38 cents. A 24-ounce box of Cheerios cost $3.99 at a .17 cent unit price.
One researcher was a bit baffled by some of the trends he witnessed with certain wheat bread brands. The price dropped somewhat after the first of the year. His assessment -- maybe people were eating leftover holiday cookies for breakfast, rather than toast. Again, a reasonable conclusion.
One of the first student presenters, Wyatt Podbielski, was assigned to track the prices of turkey lunch meat.
In the winter months, turkey meat is not as popular as the holiday season, so it might be the time to put some in the freezer.
For this project, students tracked a series of common foods families buy at area grocery stores, such things as cereal, ground beef, eggs, wheat bread, milk lunch meat, apples, even gasoline. Student Roman Tipan noticed that the price-per-fluid-ounce of gasoline has stayed pretty much the same, .02 cents, since school started. His parents might be interested in what he learned.
The students compared prices for different brands, the prices for different stores, and tracked the unit prices for those same products.
Mazon said the exercise was intended to teach math concepts, so students see the real-life connection.
"I wanted to apply learning to their real life," he said. "We don't want to compartmentalize what they learn in school."
In this project, which also incorporated writing an explanatory essay, scientific concepts, research efforts, data entry and art, the students were required to engage in the lessons, rather than simply hear and repeat what they read in a book.
Student Aiden Gonzales admits when Mazon first proposed the project, he was skeptical. But he quickly discovered that the information he gleaned was "interesting and helpful."
"You learned something new every day," Gonzales said.
Likewise, his classmate Gabriel Garfield said at first he wasn't quite sure how to figure out the unit pricing, but with Mazon's help he was able to break down the cost of the whole into the unit percentage.
"I learned a lot of things I didn't know," Garfield said. "It was valuable information."
He even figured out the best places to grocery shop, he said.
For Chessa Woods, the bottom line was that this project made learning "fun."
For Mazon, the reward for all this effort was the students' enthusiasm. While, he said, many of them might not associate what they are learning with mathematics, as they tackle more difficult problems, this lesson in how math can apply to daily life might help them to succeed.
"They work really hard, and I just wanted to show them that their work really can be useful in the real world," Mazon concluded.
Follow Nanci Hutson on Twitter @HutsonNanci. Reach her at 928-445-3333 ext. 2041.
SUBMIT FEEDBACK
Click Below to:
More like this story