Impaired driver collides with DPS trooper on 69; highway closed 5 hours
Trooper transported to hospital with non-life-threatening injuries
By
Max Efrein
|
mefrein
Originally Published: February 19, 2018 1:45 p.m.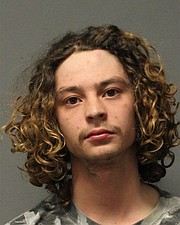 A Prescott Valley man was arrested on multiple felony charges after his truck collided with an Arizona Department of Public Safety (DPS) trooper's vehicle Sunday evening, Feb. 18, according to a Prescott Valley Police Department (PVPD) news release.
At around 8 that night, officers from the PVPD, the Yavapai County Sheriff's Office and the DPS were searching for a vehicle along Highway 69 that about six callers reported as possibly being driven by someone who was impaired, said Jason Kaufman, PVPD spokesperson.
During the search, the vehicle – a Toyota pickup – turned onto the highway right in front of a DPS trooper, causing a serious collision just north of Kachina Place (near the Dewey post office), Kaufman said.
The trooper was treated at the Yavapai Regional Medical Center's East Campus for non-life-threatening injuries. The driver of the Toyota, Jarrett Tixier, 22, from Prescott Valley, was not injured.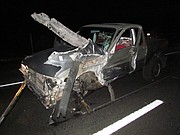 Responding emergency crews had to close the northbound lanes on Highway 69 for about five hours while officers completed an investigation of the incident and removed debris. Arizona Department of Transportation crews assisted with traffic control and clean-up efforts.
Police said an investigation revealed that Tixier was under the influence of illegal drugs and was, therefore, criminally charged with driving under the influence of drugs (a misdemeanor), three counts of endangerment (a felony), aggravated assault (a felony) and felony criminal damage.
Two of the endangerment charges are because two of the people who reported Tixier's reckless driving said they nearly got into accidents because of it. The third count was because of the collision with the DPS vehicle. The aggravated assault charge was brought against Tixier because he was found to be under the influence of illegal drugs.
"Because he was impaired by illicit drugs, his vehicle was considered a deadly weapon," Kaufman said.
It's okay to call 911
"This stuff happens so quickly, and you want the quickest response possible by calling 911," said PVPD spokesman Jason Kaufman.
And the criminal damage charge was because of how extensive the damage was to the trooper's vehicle. "The vehicle was totaled," Kaufman said.
New – with the decals, radio system and everything else that goes into them – those vehicles cost about $50,000, Kaufman said.
Under Arizona law, any damage to public or private property valued at more than $10,000 is considered a class 4 felony, according to Laboy Law Office in Phoenix.
Follow Max Efrein on Twitter @mefrein, email him at mefrein@prescottaz.com or call him at 928-445-3333 ext. 1105.
More like this story
SUBMIT FEEDBACK
Click Below to: