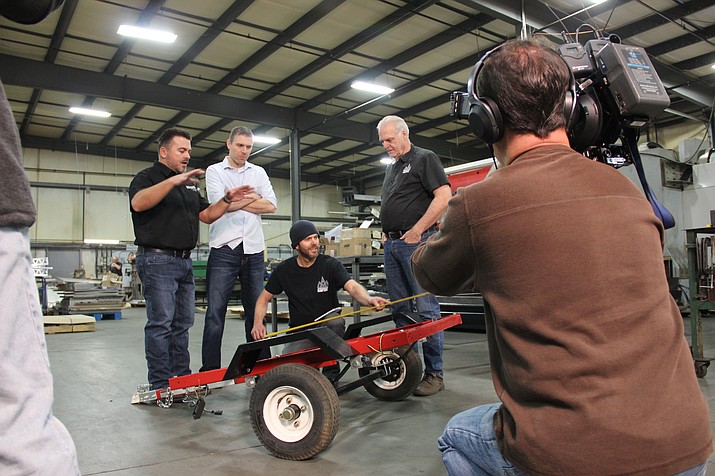 Originally Published: February 16, 2018 6:05 a.m.
All it takes to make a reality television show these days is an entrepreneurial venture and some personalities with specialized knowledge to make it come alive.
That's, essentially, how the Aurich family — who own and operate Advanced Metal Fabrication & Machine, Inc. in Prescott — and Bobby Raber, a local pediatric dentist, landed a television show contract with the Velocity channel, a subsidiary of Discovery Communications.
Raber had started purchasing old, military Humvees at auction about a year ago and turned to Dale Aurich, the patriarch of the family, to see if the heavily used vehicles could be customized in Dale's manufacturing facility, located near the Prescott Municipal Airport.
Dale liked the idea and agreed to start a side business with Raber called Humvee Designs.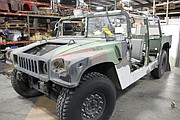 "We do metal fabrication for all kinds of industries — nothing specific — and this kind of stuff kind of just falls right in," he said.
"We have maybe a hundred different customers who come to us with their own projects all of the time, so we're used to always making new things," said Jared Aurich, Dale's son.
Soon after starting Humvee Designs, Dale met someone in the automobile industry who was able to connect him to some television producers. After Dale explained to the producers what he does at his manufacturing facility and how he has a new business that customizes Humvees, Dale was offered the opportunity for his business be the subject of a reality TV show.
Dale conferred with Raber, and they decided to go for it.
https://www.youtube.com/watch?time_continue=168&v=1-hC7VzuurI
Filming began more than a year ago, around June 2017, and the show — titled "American Metal" — is set to air April 1 on the Velocity channel.
The stars are Raber, Dale and his two sons, Jared and Jesse. None of them have acting experience.
"I don't know how to act," Jared said. "But we're not really 'acting' acting, because we don't have scripts."
Instead, the film crew — two independent contractors with cameras — give Raber and the Aurichs some direction on where to stand and what to talk about. Most of the content for the series is a reenactment of things that have already been done to progress whatever fabrication project they've decided to work on for the show.
"We're not the kind of show where they feed each other (lines) and do all that kind of stuff; it's actually very wholesome," said Bryan Dicerb, the show's director. "There's enough shows out there where they yell at each other. That market's already cornered."
The first season — of what Raber and the Aurichs hope will be a multi-season show — focuses on the customization of a 1990 Humvee. However, many episodes will feature other projects.
"If we were to stick just to Humvees, eventually we are going to run out of stuff for the show," Jared said. "So the idea is, we work on cool projects."
For more information about the local reality television show, go to AmericanMetal.TV.
More like this story