Prescott Pops ends season with Cartoon Tunes
Kathy Wells
Originally Published: February 16, 2018 6 a.m.
The Prescott Pops Symphony's 25th season has been a phenomenal one with concert performances that have proven as entertaining as they are diverse. Maestro Joseph Place will lead the Pops orchestra for its fifth and final performance for 2017-2018 season, 3:00pm this Sunday, February 18 at the Yavapai College Performing Arts Center.
All of us started out in early childhood experiencing the marvel of Saturday morning's best entertainment. Cartoons were vessels of laughter, joy, action, and adventure delivered through a fun package of colorful animated characters and wrapped in some of our most memorable music.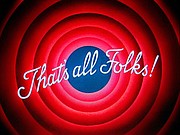 Many famous cartoons dating back to the 1930's brought their characters to life to the tune of classical music like Brahm's Hungarian Dances (WB Looney Tunes "Pigs in a Polka" c. 1943), Bugs Bunny's memorable performance of Rossini's Barber of Seville Overture in "The Rabbit of Seville" (WB Looney Tunes c. 1946) and Elmer Fudd's astonishing 1957 performance in WB's "Kill The Wabbit" (Wagner's Ride of the Valkyries).
From several of our favorite classic cartoons to the music behind some of Disney's favorite animated motion pictures, the Pops will deliver a program sure to make you smile. Guest soloists Arlene Hardy and Michael Nache will join the orchestra for songs from "Beauty and the Beast," "The Little Mermaid," "Snow White" and more. Harpist, David Ice, will also be giving a short presentation about his experience adapting cartoons to the Hollywood screen.
Tickets are available at the YCPAC Box Office at (928) 776-2000, online at YCPAC.com, and at the door. Get your tickets and pretend you're going to Corny-Gie Hall with Porky Pig and Bugs for the Corny Concerto. That's All Folks!
More like this story
SUBMIT FEEDBACK
Click Below to: