25th annual VA Creative Arts Festival a must-see

By
Nanci Hutson
|
HutsonNanci
Originally Published: February 15, 2018 5:56 a.m.
A nurses' uniform — crafted out of slices of colorful pieces of fabric scraps with a bright pink stethoscope — is one of the first pieces one will see when touring the 25th annual Creative Arts Festival at the Northern Arizona Veteran Affairs Health Care System theater on the campus off Highway 89.
The piece — titled "Heart Work" by veteran Kellogg Patton — is one of 134 entries submitted by 75 veterans representing 37 different categories of artwork. The art ranged from crocheted pieces, ships in a bottle, intricate models, wood and metal sculpture, charcoal drawings, small, multi-media pieces and a variety of paintings from Native American symbols to collective swirls crafted by an entire group of veterans.
"It makes you happy just looking at it," smiled Sally Fine as she looked over the uniform composed of an array of vibrant fabrics, including ones that look like the markings on an electrocardiogram. She is a volunteer with the American Legion Auxiliary that is a national co-sponsor of these VA art festivals.
Top winners have their work judged in a regional competition, and then a select group of winners are sent to the national competition. NAVACHS festival winners have placed, and even won, at the national level. This year's national arts festival will be held in October in Des Moines, Iowa.
"I'm just amazed at what they come up with," Fine said. "There is a lot of talent here."
One of the first-place winners was a glass piece titled "A Stand of Birches." A painting on the far side of the room seemed to be a nod to Valentine's Day – two wine glasses, red and white, the wine flowing from the glass into the shape of a heart, surrounded by three pink roses. The artist, Anthony Tusa, painted that particular piece in just 30 minutes, Fine said.
VA Public Information Officer Mary Dillinger said she never ceases to be awed by the veterans' creations. Her favorite this year was a second piece by Kellogg Patton, a multi-media, free-form painting of a horse in vivid hues of yellows and blues titled, "Drinkers of the Wind."
The show opened at noon on Wednesday and will be open to the public from 9 a.m. to 4 p.m. on Thursday and from 9 a.m. till noon on Friday. The award ceremony is scheduled for 1 p.m. Friday.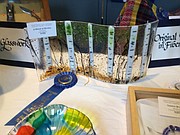 For many of the veterans, these creations are not just about artistic expression but are also a therapeutic outlet, Fine said.
One of her favorite murals was of various earth-tone paint swirls, crafted by a group of veterans living in the VA's Domiciliary.
Each piece of artwork is exhibited so that guests can get close up views, with chairs also located around the room, so people can sit and admire the works from a bit of a distance.
Some of the pieces have been submitted for past shows, but many of the works are new to this festival. The art categories include model and craft kits. The pieces are not offered for sale in this show.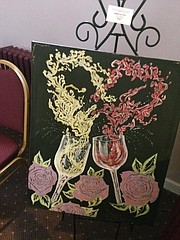 "I've been coming to this show for years," said Maryhelen Ewing of Prescott. "I'm always amazed at the level of art – some of this is world class."
She said she knows some of the artists who have been selected to attend the national festival, and even won first place. They are changed by the experience of having their talents admired and acknowledged by other artists and veterans, she said.
"They get so much attention and respect," she said. "This (festival) is just the beginning."
Hours for the festival — co-sponsored by the VA and the American Legion Auxiliary, located in the theater Building 15 on the main campus off Highway 89 — 9 a.m. to 4 p.m. Thursday, Feb. 15, and 9 a.m. to noon Friday, Feb. 16. The award ceremonies will be at 1 p.m. Cake and punch will be served.
More like this story
SUBMIT FEEDBACK
Click Below to: