Valentine couple happily married for more than 60 years
Originally Published: February 14, 2018 6 a.m.
What a perfect Valentine couple Pat and Gene Harman of Chino Valley are; they have been happily married for 61 years.
"It helps that we both think the same way," said Gene.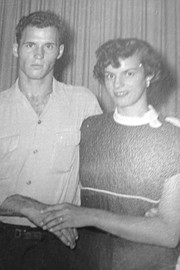 "We met in July of 1955, in Flint Michigan, when my friend Evelyn invited me over to her house to meet her brother-in-law, and since I had seen his photo I thought I would like to meet him," Pat recalled. "But when I got there I was too shy to go into the house."
"When I arrived at the house, Pat was sitting on the porch, and as I glanced at her, I thought 'Wow'," Gene said. "I asked my brother, 'Who is the pretty girl sitting on the porch. He said, 'That's yours.' So I went out and picked her up and carried her in the house," Gene said.
Pat and Gene started dating and 13 months later, on August 25, 1956, they wed.
They soon moved to Arizona and lived in Phoenix for 22 years before moving to Chino Valley in 1979, where the two of them started building a home, living in the basement until the house was completed in 1982.
Gene made his living as a mechanic and owned Harman's Service in Chino Valley for 20 years.
Pat was a stay-at-home mom and raised their three adopted children — Judy, John, and Patti. In later years, Pat also raised two granddaughters, Charllet and Samantha, besides helping Gene in his business.
"Our marriage has really been pretty darn good," Pat said. "I think it's because we both came from very large families and have always communicated well and talked things out, and Gene has always been very respectful of me."
Gene said, "I call Pat my 'sweet angel' because she is an excellent wife, mother, cook etc. She does anything and everything for me."
Their advice to newlyweds is to communicate, express your love and never go to bed angry.
"We always tell each other every day that we love one another," they said.
Martin Luther's observation — "There is no more lovely, friendly, and charming relationship, communion or company than a good marriage" seems to suit them very well.
More like this story
SUBMIT FEEDBACK
Click Below to: