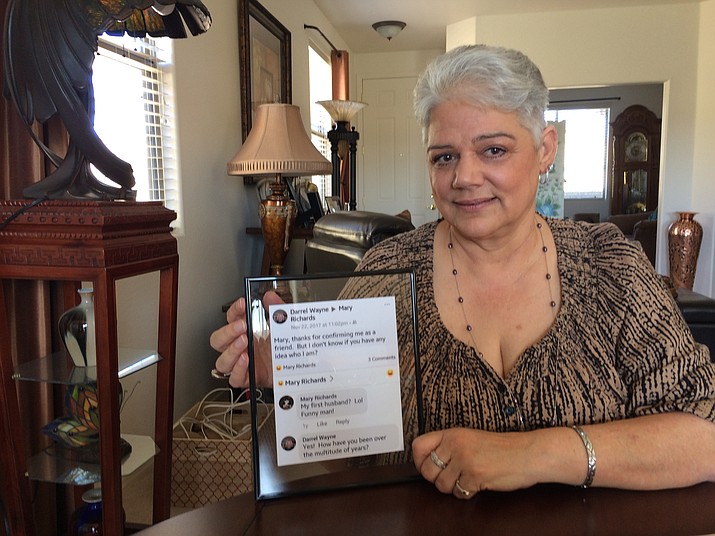 Originally Published: February 14, 2018 6:05 a.m.
On this Valentine's Day, Mary Richards is like a teenager in love — all thanks to Facebook.
Her newfound romantic connection harkens back to puppy love; the boy she dated at 14, married at 19, divorced a year later and did not hear a word from for more than four decades.
No longer the blushing, whimsical, teen bride she was when she married Wayne in her family's backyard, today the 60-year-old widow is a wise, independent mother of an adult son. In the six years since her third husband, Doug, died from an Agent Orange-related cancer, Richards has built a comfortable, happy retirement life — filled with friends, travel, pets, and the time to be do whatever she wishes.
No plan to find another love interest was on her radar when, just before Thanksgiving — while visiting her sister in San Mateo, California — Richards received a Facebook friend request.
"Why in the world would Darrel Wayne be making a friend request to me?" Richards remembers asking out loud.
Somewhat intrigued, she accepted the request.
"Mary, thanks for confirming me as a friend. But I don't know if you have any idea who I am?
"My first husband? Lol. Funny man!"
"Yes. How have you been over the multitude of years?"
Those three Facebook sentences ignited what Richards and Wayne both say is an unexpected, yet passionate, long-distance love affair. The two have exchanged 8,600 text messages in the last two months and spend three to four hours a day on the phone talking with each other.
(Richards framed the typed conversation complete with their Facebook headshots).
"Mary and I go way back, but we haven't spoken in 40 years," said Wayne, who works in the paint industry in Oakland, Calif. "My sister occasionally would bring her up in conversation. But I never pursued it."
Then, one day, Wayne's family convinced him to sign up for Facebook. He saw Richards had responded to one of his sister's posts.
"It was like a bell went off in my head," he said. "Is that THE Mary Richards?"
For a few days, he wondered about whe ther he wanted "to kick up the dust," he said. Then he decided to make the friend request. No big deal. Until she answered back a few days later.
Neither knew what to expect.
"I've had adventure after adventure after adventure in my life, and I guess I wanted to see about her life," Wayne said. "I had no plan to build a friendship, but we just hit it off. And the conversations started flowing."
The two first met in church, Richards said, noting that Wayne is two years older. Even after dating for almost five years, they knew when they pledged their troth to each other that they were too young to make a lifelong commitment.
"We were so young and so inexperienced in life," Richards said. "We didn't understand what marriage was all about or how to commit to anything. And now, all these years later, we've experienced everything.
"We've grown and matured and figured out who we are. And we like who we are and who the other person is. We see life the same way."
More than that, Wayne said, they have come to realize that what first attracted them to each other has morphed, over 40 years, into something unique and special they simply cannot ignore.
"I've just fallen head over heels in love with her again," Wayne said.
In their conversations, be it text or phone call, Richards said there is "never a dull moment."
"I have never laughed so hard as I have laughed with him," Richards said. "There's nothing we can't tell each other … We've definitely fallen back in love, without a doubt."
Richards' friend Heather Wheeler said she thinks this evolving love story, which first started long years ago, is "good for both of them."
"It's cool," Wheeler said.
Distance is their only nemesis, but Richards said, "We're patient."
"We're old. It will take as long as it takes," she said.
The couple's plan is for Wayne to come to Prescott Valley for a visit in the summer monsoon season. Where it goes from there is a mystery the two are eager to discover.
"The greatest thing in my life is finding her again," Wayne declared. "She has become my best friend, my wife again, even though we're not married. She's my family now."
More like this story