Prescott High senior finds time for church, nursing home job and fun as graduation approaches
Balancing school, work and church

By
Nanci Hutson
|
HutsonNanci
Originally Published: February 14, 2018 6:01 a.m.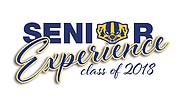 Elena Aragon is a Prescott High School senior who thrives on a crowded schedule.
"I'm an expert at juggling a lot of things," she said on a recent afternoon as she prepared to teach a weekly first-communion class for Spanish-speaking students.
Although her schedule is full, she doesn't complain.
In her second semester as a high school senior, she is taking a full load of college-level courses and involved in lots of senior activities and attending college-preparatory events. She is also a regular at Sacred Heart Roman Catholic Church, busy there two or three days a week with various ministries, including teaching a first-communion class to Spanish-speaking students, serving as a Eucharistic lay minister and in charge of the altar servers.
"This is like a second home," Elena said of the church and parish she has attended she was 2.
Elena is proud of her roots in the church, where she had her first communion and was confirmed and where she celebrated her quinceañera, a party that celebrates a young girl's coming of age on her 15th birthday.
Elena also works several days each week at a local nursing home, a job she said she adores because of the interaction with the residents.
And she still makes time for family, homework and friends.
"I like to have a lot of stuff to do." Elena said. "It keeps me on my toes. I really don't ever get bored with my life."
Prior to the holiday break, Elena was able to finalize one piece of her future puzzle; she enrolled at Yavapai College for the fall and was invited to join the honors program. She intends to earn an associate's degree in criminology and hopes to transfer to Arizona State University for a bachelor's degree in forensic science.
Over the coming summer semester, she also plans to apply to the college's eight-week, summer program that allows transitioning freshmen to earn six college credits, live in a dormitory and participate in some recreational activities, including a field day and kayaking adventure.
Like many of Elena's high school peers, she has weighed her college options carefully and developed a firm plan, prior to graduation from high school. Unlike some of Elena's friends, however, college is a new, but very proud tradition in her family.
She said that she has taken advantage of several college-preparation options, to find the choice that is best for her and her family. Staying close to home for the first two years of college seemed to make the most sense, she said.
Elena also said that she is proud that she was a conscientious student throughout her K-12 career. Her effort led to some solid options for college and financial aid, including scholarships, she said.
"I feel accomplished because I put all my effort into school," she said. "I'm really proud of myself that I put such an emphasis on school because I now feel I'm really prepared for college."
Like many of her peers, Elena seemed awed by the pace of life in her senior year in high school, and she doesn't want to miss a beat.
A couple weeks ago, Elena and her classmates made arrangements for the graduation cap and gown. Graduation day is set for May 25; final exams begin May 22, with the last school day for students on May 24.
Elena is nearing the "finish line" of her final year before post-secondary education as she and her friends relish their moments together. She said she is looking forward to picking up her last yearbook, dancing at her last prom, and participating in at least one officially unsanctioned high school tradition: senior "ditch" day.
"I was just talking to a friend today, and saying, in three years, I'll be living in Phoenix with a roommate," she said. "It seemed like such a long time. But then I think, three years ago, I was a freshman, and it seems like it was just a few days ago."
Tina Nemeth, an administrative assistant at Sacred Heart, praises Elena not only for her contributions to the church and the Hispanic community, but also as a "bright, lovely, lovely person."
"The children just love her to pieces," Nemeth said of Elena, who has taught various religious-education classes and participated in so many church events and festivals for the local Hispanic community. "I would highly recommend her for anything. She really is an outstanding young woman. I know she's going to succeed in anything she does."
Related Stories
More like this story
SUBMIT FEEDBACK
Click Below to:
This Week's Circulars
To view money-saving ads...