Talking trash: Who handles it depends on where you live
Some residents have more options than others
By
Cindy Barks
,
Sue Tone
|
Cindy_Barks
Originally Published: February 13, 2018 6:04 a.m.
Updated as of Tuesday, February 13, 2018 4:35 PM
Prescott's Top 10 Recycling Materials
Cardboard
Paper
Food boxes
Mail
Beverage cans
Food cans
Glass bottles
Glass & plastic jars
Jugs
Plastic bottles & caps
Depending on where one lives in the Quad Cities, garbage and recycling options vary, from "one size fits all" to two separate bins, to hauling it to the landfill yourself.
In Prescott, city code requires residents to use city services for their trash collection. For $15.50 per month, Prescott residents get a green garbage container and a blue recycling container with weekly pick-up.
The city uses a "single-stream" recycling system (blue bin), which means that customers do not need to separate recyclable materials. Rather, they should mix all of the "top-10" materials in the single recycling container.
Solid Waste Superintendent William Black said he was uncertain about the percentage of the city's 16,500 customers who participate in recycling. However, Prescott's "diversion rate" from recycling is about 26 percent. That means that 26 percent of the city's waste is not sent to the landfill – a rate that Black said compares favorably with other communities. In the past fiscal year, Prescott residents recycled about 4,327 tons of materials, and businesses recycled 1,179 tons.
Prescott contracts with the City of Phoenix for the handling of its recycled materials, with Prescott transporting its recyclables to the North Gateway Transfer Station in north Phoenix. Through an intergovernmental agreement, Phoenix pays Prescott for useable recyclables, based on the fluctuating market value of various materials.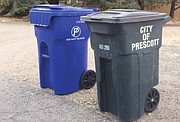 "They make money; we make money," Black said of the arrangement, in which the amount changes with market demand. Currently, Black said, cardboard and aluminum are the biggest moneymakers.
"The challenge is trying to get rid of things," he said, explaining that some materials, such as mixed papers, can be difficult to sell.
Black says he has often visited the North Gateway Transfer Station and is confident that Prescott materials are recycled and do not end up in the landfill. He said that he can arrange tours of the facility for residents who are interested in knowing more about it.
Prescott has a new program, scheduled to begin next month, to collect hazardous waste from residences within the city.
PRESCOTT VALLEY
Residents of Prescott Valley, Chino Valley and Yavapai County select their own waste company, based on whatever criteria is important to them, whether cost or service related, said Utilities Director Neil Wadsworth.
"Prescott Valley believes there are certain things that can be done more economically by the private sector," he said. "The town doesn't get involved in that."
For example, the town does not maintain a list of available recycling companies, but new residents can pick up a list of waste-removal companies from the Prescott Valley Chamber of Commerce. Some of those companies include Best Pick Disposal, Patriot Disposal, Prescott Valley Sanitation, Taylor Waste, Southwest Waste Services, United Disposal, and Wingfield Sanitation. Not all of those provide recycling services.
Patriot Disposal offers a one-can trash and recycling service for residents of Prescott Valley, Chino Valley, Williamson Valley, Castle Canyon Mesa, Prescott Country Club, Diamond Valley, and several other county communities. Rates range from $15 to $18 depending on location and size of container.
All waste picked up by Patriot Disposal is processed by Freedom Recycle Center, which removes the maximum amount of recyclables from the waste stream. This process has increased the amount of recyclables by 500 percent, compared to the previous curbside, two-can-two-trucks trash and recycling program.
According to the Patriot website, in 2013 the company has diverted more than 6 million pounds of recyclable material from landfills. Patriot also recycles electronics and cords, batteries and green waste.
Prescott Valley resident Bill Grose said he switched to family-owned Taylor Waste about nine months ago when he was looking for a company with better customer service. He said he is happy with Taylor's service, including pick up of bagged trash along with the waste can.
For new residents, Grose suggests they ask around about those local waste companies. "Not all people like the same one," he said.
Mary Dyke said she used Waste Management in California 14 years ago and continued with the company after moving to Prescott Valley. She said she likes their senior discount.
Dyke does not pay extra for a recycling container because she saves her recycling materials for a neighbor. "My recycling doesn't go in the trash," she said.
YAVAPAI COUNTY
County residents choose their own waste companies — or not. Jeff Darley, project manager with Yavapai County Solid Waste/Public Works, said, in the more rural areas, some people take their trash to a transfer station.
Eight transfer stations throughout the county are open on different days during the week. County residents pay $1 per 30-gallon bag of household trash. Larger loads, such as that filling a pickup truck bed, cost $6 a cubic yard.
"We do have separate recycling containers for paper, plastic, small metal pieces, and cardboard at no charge," Darley said. "No glass because of how we have to handle it. Glass goes in with general trash."
The waste goes to whichever is closest — a private transfer station facility with which it contracts or the landfill.
Yavapai County has only one landfill, Gray Wolf, off Highway 169 near Cherry.
"The county is so large, we end up taking trash to different places," Darley said. "Seligman trash gets hauled to Flagstaff. Trash from Bagdad and Congress gets hauled down to the regional landfill in North Phoenix."
The county takes larger metal items — like appliances and hot water heaters — for $24 per cubic yard or $20 for refrigerators and items with refrigerant. After extracting the refrigerant, it hauls the items to companies like Yavapai Metal Recycling.
"Yes, they do pay for materials," Darley said, adding, "Metal recycling has gone down drastically over the years. By the time we haul it there, we're lucky if we break even."
Old analog televisions are considered trash and end up in the landfill. Disposal of mattresses will cost residents $5 each; car batteries $3; disposal of tires is free for the first five, 50 cents each after that for passenger tires or $2 each if a wheel is attached. Disposal of larger, semi tires is $8 each.
In addition to the transfer stations, the county has two tire yards where tires are weighed, for disposal at 8 cents per pound after free disposal of the first five tires discarded. The closest tire yard is at 2650 Sundog Ranch Road, Prescott.
DUMPING
Several municipalities partner with the county for local "dump days." Visit yavapai.us/publicworks/solid-waste-division for a calendar of communities and dates.
Prescott Valley's next dump day is Saturday, May 5; for details, visit www.pvaz.net/DocumentCenter/View/164.
Also, from April 1 to June 1, transfer stations accept, without charge, brush and slash waste, with a second free slash period in the fall.
For unwanted prescription drugs, local law enforcement agencies accept them for disposal.
And disposal of hazardous wastes sometimes is included with the county's clean-up events, Darley said, adding that for latex paints let them dry out in the can and place the can in your regular trash.
Illegal dumping is a big issue for municipalities and the county, Darley said. "We have to deal with it constantly, people just dumping trash out in the desert somewhere. We do the best we can to clean it up and keep after them. It's a pretty big problem."
Darley also suggests residents visit Earth911.com or click here, which lists what businesses accept.
More like this story
SUBMIT FEEDBACK
Click Below to: