Need2Know: Dunkin' Donuts still coming to PV; Munchkinland opening in Prescott; uBreakiFix now open
Originally Published: February 11, 2018 6 a.m.
This article was corrected Feb. 12, an explanation follows.
Dunkin' Donuts still on the way
The Prescott Valley Dunkin' Donuts, set for the corner of Glassford Hill Road and Centre Court, has been delayed by various situations — including a couple of building plan changes — but is still on track for a groundbreaking by the end of March, said Ben Hooper, Prescott Valley's Economic Development coordinator.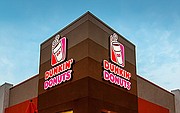 "I don't have any reason to think that won't happen," he added.
The final development plan for Dunkin' Donuts was approved by the Prescott Valley Town Council on Thursday, Aug. 10, according to Courier archives.
The building will have a drive-thru and its most accommodating access will be adjacent to the Hampton Inn. A traffic impact analysis has been done showing it will not negatively affect the area's traffic flow, town officials said.
Other planned locations for Dunkin' Donuts in northern Arizona include stores in Kingman, Bullhead City and Cottonwood; there are already stores in Flagstaff and Payson.
Munchkinland opening
The grand opening for the Munchkinland Playcenter in the Frontier Village shopping center will be at 10 a.m. Tuesday, Feb. 13.
Munchkinland is a place for children, from ages 6 months to 10 years old. Activities range from a ball pit to arts and crafts, and there are changing tables and a soothing room for moms.
Call 928-830-2662 for more information.
uBreakiFix
The uBreakiFix store is now open at 5672 E. Highway 69, Suite 140. The business does same-day repairs on electronic devices, such as cracked phone screens, gaming consoles, and computer repair, with free diagnostic consultations.
Call 928-717-6000 for more information.
Frozen yogurt or ice cream?
That small building near Filiberto's in the 500 block of Miller Valley Road is planned for a frozen yogurt or ice cream shop, said John Heiney, Prescott's Community Outreach manager. He doesn't have many details, only that it is "most likely" not a franchise operation, and added he doesn't yet know when the shop will open.
Mayo rumors not true
Despite rumors to the contrary, the Mayo Clinic has no plans to add a Prescott office, near the Gateway Mall or elsewhere, according to Mayo spokesman Jim McVeigh.
Costco rumors also false
Rumors circulating that Costco has bought a lot near the Walmart in Prescott Valley and will relocate there from its current Highway 69 location are not true, said Hooper, who noted that such a move would be "pretty big news."
Rainbow Stained Glass approaches four decades in business
Rainbow Stained Glass will be celebrating 37 years in business in Prescott Valley on Feb. 15. The business, 3036 N. Cochise Drive, was opened by Tom and Lorrie Brooks; these days, daughter Rebecca runs it with Lorrie. They've quietly made contributions to the community throughout the years, and, Rebecca said, "This is a place for inspiring people to be creative — that's what keeps us going."
To submit items for the Courier's Need2Know, email twieds@prescottaz.com; for legal advertisements, email tbryant@prescottaz.com.
The original version of this story said a frozen yogurt or ice cream store would be next to a wrong business. It would be near Filiberto's on Miller Valley Road. The address for UBreakiFix was corrected.
More like this story
SUBMIT FEEDBACK
Click Below to: