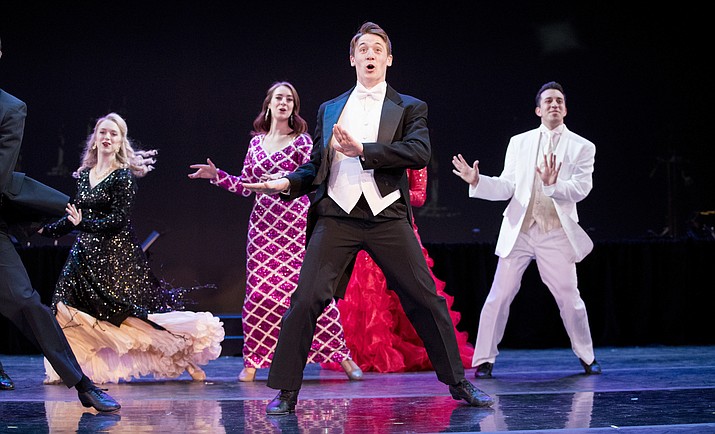 Originally Published: February 9, 2018 6 a.m.
Brigham Young University's Young Ambassadors are set to take families on a musical journey, bringing popular hits and tunes to the Yavapai College Performing Arts Center on Saturday, Feb. 10.
Titled "Welcome Home," their show is a musical lineup that's a wild ride for the audience and the performers, says Scott Hendrickson, a member of BYU's Young Ambassador.
"A lot of costume changes and a lot of singing and dancing and not really catching our breath ever," Hendrickson said. "But it sure is a lot of fun."
With dynamic choreography and colorful costumes, the performers will present tunes from shows such as "Hamilton," "Footloose," "In the Heights," "Singin' in the Rain," and "Wizard of Oz."
The costumes vary from contemporary, everyday clothes and beach clothes with chill summer vibes to tuxedos and elegant gowns, Hendrickson said. And some of the performers have to make quick costume changes, ducking out in the middle of a number with seconds to change, he said, adding that the amount of time performers are on stage, compared with their few moments off stage to get ready for the next number, is one of the challenging parts of the show for the performers.
"It's 90 minutes of cardio while singing and then trying to catch your breath when you're off stage for a second," he said.
Tickets are $30 for premium seating, $20 for general admission and $10 for students and can be purchased at pam.byu.edu, at www.ycpac.com, by calling the box office at 928-776-2000 or at the door, 1100 E. Sheldon St.
The Young Ambassadors will also be visiting local Mormon churches and presenting at a seminary class while in the area, he said.
For more information, visit www.youngambassadors.byu.edu.
By Jason Wheeler, follow him on Twitter @PrescottWheels, reach him at 928-445-3333 ext. 2037