'Waste Not, Want Not!' at Prescott library Feb. 11

Originally Published: February 8, 2018 5:52 a.m.
How many pounds of food are you throwing away each month?
On Sunday, Feb. 11, the Prescott Public Library will show an eye-opening movie, "Waste Not, Want Not!" which will focus on what to do with all that wasted food, with the goal of making a positive difference in the community.
This free event is sponsored by the Quad Cities Food Recovery Project and the Food Neighbors Project.
The afternoon will also include the movie, "Just Eat It. A Food Waste Story," at 2 p.m., which sheds light on the issue of wasted food, as well as a speech about how the public can make a difference with the food they would usually toss in the trash.
The issue of food waste and those in need of food is a real problem, even in the Prescott area.
According to the Arizona Department of Economic Security, more than 5,000 people in Yavapai County alone are at risk of losing their nutrition assistance (SNAP) benefits this year. That would mean thousands of locals will not be able to buy the food they need and could, as a result, go hungry.
But there is hope. Programs like those sponsoring this movie event reach out to local restaurants, cafeterias and farmers to put into the hands of those in need local prepared foods that would otherwise be thrown away.
While places like local food banks focus on canned foods with a long shelf life, groups such as the Quad Cities Food Recovery Program focus on fresh produce, as well as prepared foods from cafeterias. This allows for more fresh foods in diets and, therefore, healthier people.
Volunteers with Food Neighbors Project help to ensure that local emergency food providers don't run out of food. This is done by having people throughout the community fill green bags with extra groceries over a month-long period. The bags are then collected and distributed to local groups.
"I'm just so delighted to see food that would be thrown away is getting to people who need it," said Shea Richland, coordinator for the Quad City Food Recovery Program.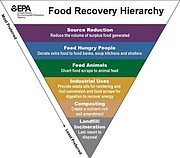 Richland, a longtime advocate for food and nutrition, started volunteering with nonprofits more than 30 years ago. She said she was ecstatic when Harvey Grady, the owner of Cornucopia, came to talk to her about creating a food recovery program within Cornucopia.
How to get involved
Individuals can donate food and money and volunteer their time to these projects. Farmers and home gardeners can also schedule to have some of their extra produce donated to the programs.
To learn more, attend Sunday's Waste Not, Want Not! event and discussion, beginning at 2 p.m. in the Prescott library or call 928-592-7929 (Quad City Food Recovery) or 928-254-8172 (Food Neighbors).
More like this story
SUBMIT FEEDBACK
Click Below to:
This Week's Circulars
To view money-saving ads...