Holder's late basket gives Arizona State 80-78 win over USC
College Basketball
Originally Published: February 8, 2018 11:45 p.m.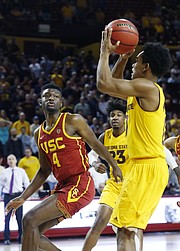 TEMPE — Tra Holder banked in a short jumper with 1.6 seconds to play, and Arizona State scored the last nine points of the game to stun USC 80-78 on Thursday night.
The Trojans had the final possession but couldn't get off a shot from near half-court.
Holder's 22 points led the Sun Devils (18-6, 6-6 Pac-12 Conference), who won the opener of a two-game conference set for the first time this season after losing five in a row. Shannon Evans added 21 points.
Nick Rakocevic scored 19 points and Bennie Boatwright added 18 for USC (17-8, 8-4).
The Sun Devils missed 12 free throws for the game and went five minutes without a field goal late in the second half after cutting the USC lead to one. But USC didn't score in the final 2:28 and committed three turnovers in that stretch.
Evans drilled a deep 3 with 50 seconds to play to tie the score at 78. Then Arizona State rebounded a Trojans miss to set up the winning play.
The Sun Devils trimmed the USC lead to 67-66 on an Evans 3 with 7:11 to play, but the Trojans had an answer. They scored the next eight points, capped off by Boatwright's 3 at the 5:02 mark.
Boatwright, who'd struggled to get into a rhythm early in the game, held his follow-through high for the crowd to see as he back-pedaled on defense.
The Trojans were out of sorts in the first half, going down 9-2 on a 3-pointer out of the corner from Holder. USC didn't score for almost six minutes after making its first shot of the game.
But the Trojans rallied to take a 24-20 lead after an 8-0 run. Then Boatwright got hot for USC, and his 3 with 1:05 to go in the half gave the Trojans a 37-29 lead.
Boatwright, a 6-10 junior, scored all 10 of his 12 first-half points in the final 2:40 of the half. Holder had 10 at halftime for the Sun Devils.
BIG PICTURE
USC: The Trojans missed a golden opportunity to move into a first-place tie with 13th-ranked Arizona after the Wildcats lost at home to UCLA on Thursday. Now they face the Wildcats in Tucson on Saturday.
ARIZONA STATE: After facing UCLA and Arizona, both at home, in its next two games, the Sun Devils finish the conference season with two of their four remaining games against teams near the bottom of the standings — Oregon State and California. Arizona State, with a good run of conference wins, still has a shot at a top-four seed and first round bye in the Pac-12 tournament.
NEED FOR SPEED
IndyCar drivers Tony Kanaan and Simon Pagenaud, in town for local track testing, were the latest celebrity types to be featured in the infamous Curtain of Distraction, a tactic of Arizona State students used to razz opposing free throw shooters.
HIGHLIGHT REEL
Arizona State's Vitaly Shibel, a starter, entered the game averaging just 1.3 points per game in conference play. But he delivered a powerful two-handed follow dunk of a missed shot just before the halftime buzzer cut USC's lead to 37-33.
UP NEXT
USC: At No. 13 Arizona on Saturday.
Arizona State: Host UCLA on Saturday.
More like this story
SUBMIT FEEDBACK
Click Below to: