Credit card fraud suspect identified, in-custody
Repeat offender nabbed with help from public
Originally Published: February 8, 2018 4:06 p.m.
A man suspected of going on a spending spree with a Cornville resident's credit card has been arrested in Cottonwood following tips from the public and continued efforts by the Yavapai County Sheriff's Office (YCSO).
Immediately after a news release was issued on Jan. 25 that included surveillance camera images of the man, YCSO began receiving tips naming him as Branden Anderson, 33.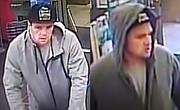 As the investigation continued, deputies located additional identifying information documented by a drug store clerk during Anderson's purchase of cigarettes with the stolen credit card. After reviewing archived booking photos of Anderson, deputies confirmed a match to security photos and also learned Anderson served prison time for trafficking in stolen property and drug possession.
Moving forward, deputies discovered and verified that Anderson was living in a residence in the 2700 block of Mesa Lane, Cottonwood. A search warrant was obtained and served Wednesday, Feb. 7, at the Mesa Lane home. Anderson was arrested and extensive evidence, including stolen property, was recovered during the investigation in the home.
Anderson was booked at the Yavapai County jail in Camp Verde on the following charges:
Theft of credit card (two counts), fraudulent use of a credit card (231 counts), forgery of a credit card (five counts), criminal impersonation (231 counts), identify theft (231 counts), aggravated identity theft (two counts), theft over $25,000 (one count), unlawful possession of an access device (two counts), fraudulent schemes (231 counts), possession of meth and possession of a narcotic.
Anderson remains in-custody on a $15,000 bond.
Information provided by the Yavapai County Sheriff's Office
More like this story
SUBMIT FEEDBACK
Click Below to: