Privacy issues tackled on town drone use policy
Plans for mapping, search and rescue, law enforcement
Originally Published: February 7, 2018 6:02 a.m.
The Town of Prescott Valley has its own unmanned aircraft system — a drone — and staff soon will be certified to fly it for a variety of uses approved by Town Council members at their Jan. 25 meeting.
To meet federal, state and local laws, town staff created an ordinance that Mayor Harvey Skoog calls "a living policy." Prescott Valley will be one of two agencies in the state to have adopted a policy concerning use of drones.
Mark Stone, media production coordinator for Prescott Valley Channel 56, said nowadays many people capture images with these unmanned aircraft systems, UASs, for marketing purposes, and so has Prescott Valley's Economic Development Foundation.
For town use, Stone listed drone use examples of emergency management, search and rescue, capital projects, law enforcement, mapping and measuring, community events, and damage assessments.
"This is an evolving issue. We wanted to make sure we had something in place. We are limited by legislation in terms of what can and can't be done," said Town Attorney Ivan Legler.
In the next month, Stone said he and another staff member will earn their remote pilot certificates through the Federal Aviation Administration. The Police Department has a similar policy, he said, and the town attorney has reviewed both.
Legler said discussion at the federal level has to do with giving additional flexibility for commercial purposes.
"We've taken a conservative approach. We'll get the certificate, and get a waiver, if we need to; we'll keep that as an option," he said. "We will be monitoring it closely to see where it goes."
A lot of folks are concerned about privacy, Legler added, and language is included to make sure any use with police content has the direct approval of the police chief before implementation.
Legler said the greatest use of a drone, however, will be through the Public Works Department.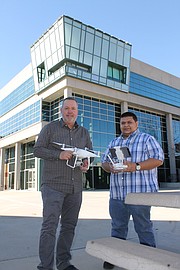 "Beyond the lifesaving capabilities, this will save the town money and be more effective and efficient. We will be careful in its usage and in licensing," said Vice Mayor Lora Lee Nye.
The policy deals strictly with the town's use of a UAS, and does not affect the general public's use. The program will be managed through the town manager or his designee.
"No one can fly it without a remote pilot certificate with small UAS rating. Staff can fly it as long as we are there watching and observing them," Stone said.
The policy states that a designated visual observer must be present along with the pilot. The pilot cannot operate the drone during nighttime unless the program manager has obtained a certificate of waiver. The operator cannot drop objects or operate from a moving vehicle, water-borne vehicle or aircraft.
Other requirements state that ground speed may not exceed 87 knots (100 mph), the UAS cannot fly higher than 400 feet above ground level, and flight visibility must be no less than three miles.
Without a warrant or exigent circumstances, it cannot be operated to record or transmit images in any location where a person would have a reasonable expectation of privacy, such as inside a residence, fenced yard or similar area only visible from an elevated position.
All video and audio records are stored in accordance with town records retention schedules.
The council unanimously approved the policy.
More like this story
SUBMIT FEEDBACK
Click Below to: