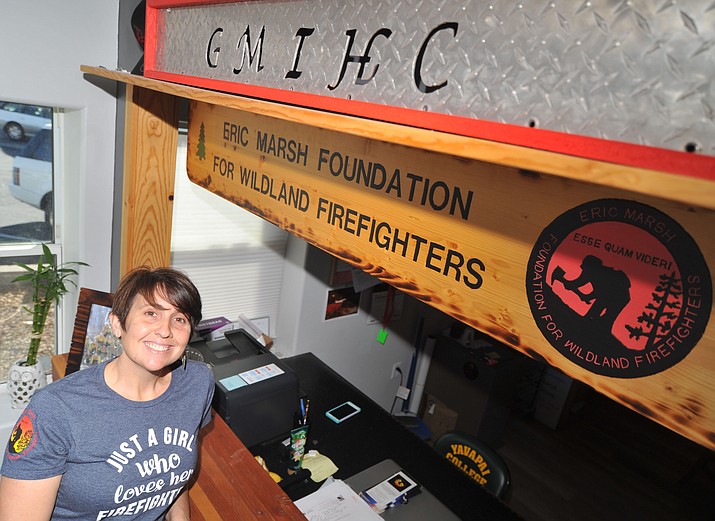 Originally Published: February 7, 2018 5:48 a.m.
When the superintendent of the Granite Mountain Interagency Hotshot crew — Eric Marsh — was killed fighting the Yarnell Hill fire on June 30, 2013, his wife, Amanda, struggled to make sense the of his death and to find a way to give it meaning.
Three years ago, she started the Eric Marsh Foundation for Wildland Firefighters, a 501(c)3 charitable organization. Until now, the Foundation has been located on Montezuma Street, in Prescott, upstairs from the Hike Shack.
"We needed a bigger space, and we wanted to have our own spot," she said.
Now they do -- 409 W. Goodwin St., also in Prescott.
She said the Foundation raises money to give to family members of firefighters who are killed in the line of duty.
"One hundred percent of our donations that we receive to the Foundation are used for next of kin and firefighters ... with PTSD," she said, noting that, last year the Foundation disbursed $13,900.
She doesn't take a salary for her work, and the salary for the Foundation's executive director, Amy Armenta, comes from sales of merchandise, such as t-shirts and hats, Amanda said.
"We ship them all over the globe," she said.
The items all feature the Foundation's logo, which depicts a wildland firefighter at work. She said the logo is based on the Granite Mountain crew's logo.
Last year, the Foundation held a "survivors' retreat and also received some added publicity and added donations, too, she said, from the release in October of the movie "Only the Brave," which traces events leading up to and through the tragedy at Yarnell Hill.
This year, she said, the Foundation will be able to give more to each family who suffers the loss of a family member in the line of duty as a firefighter.
"We're not bringing in millions of dollars yet," she said, "but we will."
The Foundation's grand opening for its new office will be 4 p.m. to 7 p.m., Friday, Feb. 9, at 409 W. Goodwin St., Prescott.
More like this story