Granted 'wish' opens world of play for 6-year-old Prescott Valley boy

Originally Published: February 4, 2018 6:04 a.m.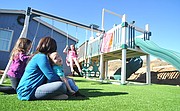 Sean Pfister is a happy 6-year-old boy from Mountain View Elementary who likes Star Wars and playing with his siblings, as many boys his age do. Only, his playtime has been difficult to come by over the past few years.
That is, until the Make-A-Wish Foundation stepped in.
Sean was born with Glutaric Acidemia Type 1, a metabolic disorder that doesn't allow him to process certain proteins in common foods. Because of his disorder, Sean then suffered a metabolic stroke when he was only 8 months old, leaving him unable to control his movements, along with causing Cerebral Palsy, and leaving him unable to speak.
However, Sean is still cognitively developed and there are no issues with his understanding or learning ability. With the help of doctors and therapists, Sean was able to learn to use a computer attached to his chair in order to communicate. He uses his eyes to select pictures for the words he wants to use, which works very well for him.
And yet, there was still something missing. Sean was still limited to only where his wheelchair could go, and most kid-friendly places were limited in their wheelchair access. Even around the house, playtime was sometimes complicated.
But there was a glimmer of hope. Sean's doctors suggested to his mother, An Pfister, about the possibility of applying for the Make-A-Wish Foundation, which specializes in creating experiences and specialized gifts for children with life-threatening illnesses. After taking some time to think about the decision and filling out the necessary paperwork for the program, Sean was approved to get his wish.
Being a child
The process started for Sean and his family in July 2016, and their first step was to decide on what type of wish would be best for them. There was no dispute there, and they quickly decided that Sean needed a safe and interactive way to be a child. He needed a place to play.
"He always makes an impression on people. He is very social," his mother explained. She added that he was often very limited when it came to playing with his family and friends. Make-A-Wish wanted to change that.
The first plan consisted of a train that Sean could ride in and control, much in the way he uses his computer on his wheelchair. However, there was a halt to the plans when the project required the family to have a carnival license, which would need to be renewed each year. So they tried to think of something else, something interactive that he could enjoy with his three sisters. And that's when they came up with the winning idea: a playset.
Community help
With the help of Lori Padilla and Myrta George, the local Make-A-Wish helpers, as well as Sandy Griffis of the Yavapai County Contractors Association, they were able to design a two-level playset with a special ramp that Sean could safely use to get to the top level and play with his family.
The construction took over 100 hours of labor, almost all of it volunteer, to make his wish come true.

The playset was created on the Pfister family's land in Prescott Valley. It includes swings, two slides, binoculars, and a telescope, as well as the ramp that was installed specifically for Sean, which goes directly from their home to the second level of the playset so there is no need for him to leave his chair.
Upon asking what he thought of his new playset, his computer chirped, "like" and a wide grin spread across his face. His mother, An, said that he loves to go out and play with his three sisters, and especially on the swings, or laying down in the grass beside it with his father.
"He gets to play, which is very important for little boys to do," his mother, An, explained. "If there is one thing I had to say about it all," she continued, "it would just be that we are so grateful to the Make-A-Wish Foundation. We are so thankful for all the work.
"So many people helped and it was incredible to see local businesses dedicating their time. All for Sean to have the ability to play."
Now with the gift of the local people of Prescott and the Make-A-Wish Foundation, Sean gets to be included in the fun. Now he gets to play.
More like this story
SUBMIT FEEDBACK
Click Below to:
This Week's Circulars
To view money-saving ads...