Arizona in Brief: Bat, eagle deaths at wind farm prompt federal probe
Originally Published: February 4, 2018 5:50 a.m.
Bat, eagle deaths at wind farm prompt federal probe
TUCSON (AP) — The U.S. Department of Justice is reviewing a criminal investigation of a wind-energy farm in southeastern Arizona to determine whether prosecution is warranted in the deaths of a federally protected golden eagle and an endangered bat, according to federal wildlife officials.
A monitoring report indicated that the 15-turbine Red Horse Wind 2 project near Willcox caused the deaths of the eagle and a lesser long-nosed bat during its first year of operation between July of 2015 and 2016, the Arizona Daily Star reported .
The U.S. Fish and Wildlife Service opened a criminal investigation into the animal deaths, and it was referred to the Justice Department's Environmental and Natural Resources Division in December, said Tamara Kurey, a Wildlife Service special agent.
A division spokeswoman didn't respond to the newspaper's questions about the investigation.
Kurey declined to provide additional details about the case due to the pending investigation but confirmed more animal deaths are involved.
Border Patrol agents rescue injured Mexican migrant
TUCSON (AP) — Border Patrol agents have rescued an injured Mexican migrant who was abandoned by smugglers in the desert.
Border Patrol officials say an agent from the Tucson Sector was investigating a brushfire 20 miles east of Nogales early Friday when he came across the 33-year-old man, who had an open ankle fracture.
Another agent with emergency medical training provided first aid.
The man was airlifted to a Tucson hospital. He is expected to be processed for immigration violations after his release.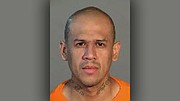 Corrections Dept. suspects inmate's death was gang-related
FLORENCE (AP) — The Arizona Department of Corrections says the death of a state prison inmate is being investigated as a suspected gang-related homicide.
The department says 30-year-old Christopher M. Bendel had multiple stab wounds when he was found in a large outdoor recreation enclosure at the Eyman prison complex in Florence.
According to the department, several inmate-made weapons were recovered at the scene and DOC criminal investigators "have reasonable cause to suspect gang-related foul play may have been involved."
Bendel was sentenced to eight years in prison for a Maricopa County conviction for armed robbery.
He previously was in prison briefly in 2010 on a conviction for discharging a firearm within city limits.
Bendel's DOC inmate profile says he was scheduled to be released in July.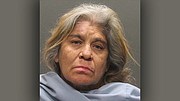 Tucson police: Woman arrested in stabbing death of brother
TUCSON (AP) — Tucson police say a 60-year-old woman has been arrested in the stabbing death of her older brother.
Police say Martha Parra is accused of domestic violence-manslaughter in the death of 62-year-old Mario Urena,
According to police, Urena died at a hospital after officers responding to a report of a stabbing at an apartment complex Friday night found him with obvious stab wounds.
Police say Parra and Urena lived in the apartment and that Parra obtained a knife during an argument that turned into a physical altercation.
Police say Parra called 911 and remained at the scene.
2 women dead in home, man seriously hurt; suspect in custody
VAIL (AP) — Pima County authorities say an injured man is in custody following the killings of two women and the injury of a second man who apparently all lived at the same residence.
The Sheriff's Department says the dead women were found inside the home and the injured suspect in a culvert on the property after deputies responding to a report of an assault met the second injured man. He had called 911 from a neighbor's home.
The department says both injured men remain hospitalized.
Additional information wasn't released.
The incident occurred Friday in Vail, which is approximately 20 miles (32 kilometers) southeast of central Tucson.
Glendale police investigating drowning death of 2-year-old
GLENDALE (AP) — Glendale police say an investigation is underway into the death of a 2-year-old girl in a pool.
Officer Tiffany Smith says it's not known what happened or how long the child was in the pool before she was found Friday evening.
The girl was taken to a hospital where she died. Her name wasn't released.
The home is near West Bethany Home Road and North 67th Avenue.
San Juan County asks Navajo Nation to help pay for strays
FARMINGTON, N.M. (AP) — Northwest New Mexico officials are asking the Navajo Nation to pitch in and help with the costs to shelter stray animals from the reservation.
San Juan County expects to pay about $766,000 to house strays this year due to a 6 percent increase in costs at two animal shelters in the area. The costs are increasing because a subsidy Farmington provides to the county is ending, The Daily Times reported earlier this week.
The county predicts that the cost for next year will be even higher.
More than $200,000 is spent on stray animals from the Navajo Nation, officials said. The animals are being cared for at the Farmington Regional Animal Shelter.
County Commissioner Jack Fortner has sent a letter to Navajo Nation officials informing them of the cost increase, he said. He is optimistic that the tribe will be able to pay for a portion of the annual cost for stray animals from the reservation.
In the past, the tribe has been willing to help with costs for services the county provides on the reservation. The tribe even took over the operation of fire stations when the county asked Navajo officials for money to keep them going, Fortner said.
Navajo Nation animal control program director Glenda Davis doubts this will be one of those times.
Police investigating stabbing report find dead body in salon
MESA (AP) — Mesa police are conducting a homicide investigator after officers responding to a report of a stabbing at a nail salon found an adult's dead body inside the business.
Police haven't released additional information of the person found dead Friday evening other than that he or she was an adult.
Detective Steve Barry says other people were at the salon when officers arrived.
The incident occurred Friday night near Ellsworth and Baseline roads.
More like this story
SUBMIT FEEDBACK
Click Below to:
This Week's Circulars
To view money-saving ads...