Prescott Unified remodels leadership to propel broader vision
Shuffling principals

By
Nanci Hutson
|
HutsonNanci
Originally Published: February 2, 2018 6:05 a.m.
With a new vision for kindergarten through grade 12, Prescott Unified School District Superintendent Joe Howard announced this week an administrative "remodel" that will move three principals and two assistant principals into new positions for the 2018-2019 school year.
"This is about taking the positive leadership skills our folks have and where we can use them best in the district," Howard said. "Our focus is to look at people's strengths and take those strengths and experiences, to look at the district in a more K-12 way."
To that end, Stephanie Hillig, principal at Prescott High School, will become principal at Abia Judd Elementary, and Mark Goligoski, principal at Mile High Middle School, will take over at Prescott High.
Clark Tenney, principal at Abia Judd Elementary, will become assistant principal at Prescott High, joining Goligoski there. Goligoski was once Tenney's cross country teammate and a fellow history teacher with Tenney, too.
Andy Binder, assistant principal at Mile High Middle School, will be promoted to principal there. Amy Buettner, assistant principal at Prescott High, will be transferred to Mile High Middle School as assistant principal.
The cost to the district from the reassignments will be about $20,000.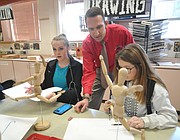 Meanwhile, Granite Mountain Principal Teresa Bruso, Taylor Hicks Elementary School Principal Kelsey Secor and Lincoln Elementary Principal Karen Hughes will remain in those positions.
School staff were informed of the changes Wednesday, and principals started notifying students and parents on Thursday.
"We're looking at this as an opportunity for change," said Hillig, who, for the first time in her career, will be working in an elementary school setting.
In talks with staff, students and parents, Hillig and her colleagues have all assured them that they have confidence in Howard's vision and embrace what they see as a bold plan that will enrich students, so they start early making big dreams come true.
"This is a new challenge for me; something I've never done," Hillig admits. "But I'll approach it with open eyes, open arms and the same passion I've always had. I definitely love what I do. There's no one on the planet who would argue that. I love working with the students in our district.
"I'm just going from kids who are taller than me to kids who are a little smaller than me," she said. "But to me, a kid is a kid. It doesn't matter the age, the height or their abilities. I'll give them all the same love, care and belief that I would give them at the high school level."
Goligoski was also enthusiastic about the changes. "I'm really excited about the opportunity," he said. But he expressed mixed emotions about leaving a school community that he has come to love and admire.
He said he had not expected the change, but noted that Prescott High School is the place that "made the most impact on my life: as a student, a teacher and coach."
Goligoski served 10 years as a classroom teacher and coach and three years as the high school athletic director before he accepted the principal job at Mile High.
"To return to a place that has meant so much to me is an honor," he said.
Likewise, Tenney said he is enthusiastic about Howard's K-12 vision that is all about growth for children.
He acknowledges this is not without some trepidation, but has faith Howard has given the changes careful consideration, in collaboration with fellow administrators and the Governing Board.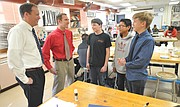 "When you think he's taking you off a cliff, there is always a ledge and then a path leading you in the right direction," Tenney said. "I just think this is going to be fantastic."
Four years ago, PUSD closed two schools and reorganized the remaining six to adjust for years of declining enrollments. A year ago, Howard reconfigured staff when the finance director position became vacant. In a matter of days, Howard tapped Brian Moore, the decade-long principal at Taylor Hicks, to become the new finance director, and moved Mile High Assistant Principal Kelsey Secor into that post. He then promoted Mile High social studies teacher Andy Binder into the assistant principal role.
Howard said he has been considering the latest changes for more than a year and started conversations about the changes two months ago.
Howard acknowledges that reorganization is "scary stuff" as people "step out of their comfort zones." He compared the adjustments in staffing to remodeling a home.
"It takes work and some transition," he said. "But when it's all done and we look at the new remodel, we see that we can operate better now."
With these new assignments, Howard said he is seeking to maximize these leaders' talents, skills and experiences to propel an education vision that begins on the elementary playground and continues through until those same children cross the stage at Prescott High to receive their diploma.
"We're putting the 'U' in 'Unified,' big time," Howard concluded.
More like this story
SUBMIT FEEDBACK
Click Below to:
This Week's Circulars
To view money-saving ads...