Cheerleader laments end of high school
Senior has high expectations for next chapter

By
Nanci Hutson
|
HutsonNanci
Originally Published: February 2, 2018 6:01 a.m.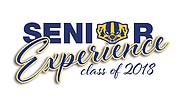 From the time she started cheerleading as a toddler, Prescott High School senior Kirsten Hillig dreamed of one day becoming a college cheerleader/athlete.
Now, in her fourth year of high school, Kirsten's cheerleading squad has proved a staple in a very busy schedule of homework, band practice, community service, club activities and athletics. In her prior years, she played both basketball and softball.
She intended to pick a college where she could have a cheerleading scholarship while studying to become a special education teacher specializing in instruction of deaf students.
At the end of her first semester, Kirsten found herself confronted with a tough choice. Accept a cheerleading scholarship at a private state school that does not offer what she wants to study. Or, enroll at the University of Arizona in Tucson where she can earn the degree she wants but due to a shoulder injury is not eligible for an open position on its cheerleading squad.
After weighing all the possibilities, and shedding more than a few tears, Kirsten decided it was time to say farewell to her childhood passion.
"It was kind of heartbreaking," Kirsten said. "Sports has consumed my life for as long as I can remember, and now I'm not going to be an athlete anymore."
But she is confident there is more ahead.
The straight-A student accepted the offer from the University of Arizona to pursue what she believes will be best for her future and career. Though she will not be a cheerleader, she is eager to experience college life and try some new things. Perhaps, musical theater.
"I'll just see what comes my way," Kirsten said.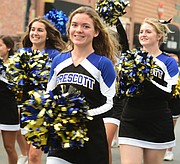 She joins a proud family tradition; both her parents, Stephanie, the high school principal, and father, Blair, a Bradshaw Mountain High math teacher, are Wildcats and her twin sister, Kara, will be her roommate next year.
On Senior Night last Friday, Kirsten joined her fellow senior squad members and basketball players as they were honored for their contributions to Badger athletics and applauded for what will come next. She was prepared with plenty of Kleenex.
"I'm glad it's ending in a happy way. I love my team, and I'm glad I'm ending (her sporting life) with them. It's just sad that's it's going to end."
She admits that this semester she is suffering a bit of "senioritis."
Still, she is taking a harder course load than she did her first semester, including college-credit courses. She remains excited about her once-a-week community service assignment at Coyote Springs Elementary in Prescott Valley where she works with deaf children. A deaf friend was the impetus for her to select a career to help deaf children live and thrive in a hearing world.
Kirsten's shoulder injury has impeded her ability to be a softball pitcher this year. So instead of sitting on a bench, she intends to join the track team. She said she is not a long-distance runner so she'll stick to sprints, she said.
What Kirsten does not want to do is rush the end of high school.
Even with her setbacks, Kirsten said she intends to enjoy what's left of a time that will never be repeated. She looks forward to attending the senior prom, and is making plans for an after-graduation senior trip to Glacier National Park.
Some of her peers are doing a countdown to graduation. She doesn't even want to try on her cap and gown.
"I'm just trying to enjoy it all," she said.
"Kirsten is a diligent student who is dedicated to high achievement and cooperation within the classroom," said Amanda Chartier, a high school art teacher. "I wish her continued academic success at the University of Arizona."
Related Stories
More like this story
SUBMIT FEEDBACK
Click Below to:
This Week's Circulars
To view money-saving ads...