Update: Deceased Rimrock couple identified
Autopsy confirms murder-suicide
Staff Report
Originally Published: February 1, 2018 3:11 p.m.
Updated as of Friday, February 2, 2018 6 AM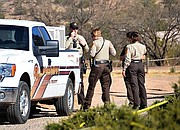 A man and woman found dead inside a Rimrock home during a welfare check midday Tuesday, Jan. 30, have been identified as Joseph Noble II, 54, and his wife, Cynthia Noble, 47.
The caller who had requested the welfare check for the home in the 4100 block of Passage Lane thought it was suspicious that the doors at that residence had been opened since the day before, according to a YCSO news release Wednesday, Jan. 31.
The initial report stated that detectives were investigating the circumstances of the deaths, but believed it may have been a murder-suicide.
Autopsy results have confirmed this, showing that Joseph shot his wife, possibly while she was asleep, and then shot and killed himself in the bedroom, according to a YCSO news release Thursday, Feb. 1. There was no sign of a struggle in the home and ballistic evidence indicates Joseph as the only shooter.
The time of the shooting is still being investigated. All detectives know as of 3 p.m. Thursday is the incident occurred sometime after 9 a.m. Saturday, Jan. 27.
More like this story
SUBMIT FEEDBACK
Click Below to: