Pile burning continues in Verde through Friday
Originally Published: February 1, 2018 1:29 p.m.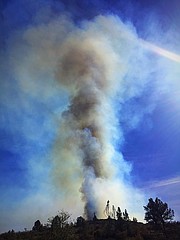 Verde Ranger District fire managers are continuing fuels treatments east of the junction of Highway 169 and Interstate 17, with 200 acres completed and another 100 started Thursday.
The work, which is expected to go through Friday, Feb. 2, is conditional on weather conditions, according to a news release. Benefits from these treatments help to reduce hazardous fuels adjacent to the wildland urban interface and increase ecosystem and community resilience.
The work area, Cienega piles, is located along Forest Road 68D and Forest Road 732. Piles are a result of the Cienega fuel break and consist of cut and piled juniper along the roadway. Daily acreage totals are contingent weather conditions.
Smoke will be visible from Highway 169 and I-17 but impacts should be minimal. In the interest of safety, forest visitors are reminded to obey all traffic signs and use caution when traveling along FR 68D and FR 732. Burning of debris left over from thinning projects require moisture in the surrounding vegetation and typically produces much lighter smoke than broadcast burning.
All prescribed fire activity is dependent on the availability of personnel and equipment, weather, fuels and conditions that minimize smoke impacts as best as possible and approval from the Arizona Department of Environmental Quality (www.azdeq.gov).
For more information, visit http://www.fs.usda.gov/prescott/ or call 928-567-4121.
More like this story
SUBMIT FEEDBACK
Click Below to: