Now Showing: Week of Feb. 2
Kudos staff
Originally Published: February 1, 2018 6:33 p.m.
Movies playing at Harkins Theatres, 7202 Pav Way, Prescott Valley (Highway 69 between Glassford Hill and Lake Valley roads). 928-775-7444; www.harkins.com.
(NEW) WINCHESTER – After the sudden death of her family, firearms heiress Sarah Winchester becomes convinced that she's haunted by the souls of those killed by guns. Winchester then decides to build an enormous mansion that's designed to keep the evil spirits at bay. When skeptical psychiatrist Eric Price visits the estate to evaluate her state of mind, he soon discovers that her obsession may not be so far-fetched after all. Stars Helen Mirren, Jason Clarke, Sarah Snook, and Angus Sampson. Rated PG-13 – Thriller, Fantasy
Also showing:
MAZE RUNNER: THE DEATH CURE – Thomas leads some escaped Gladers on their final and most dangerous mission yet. To save their friends, they must break into the legendary Last City, a WCKD-controlled labyrinth that may turn out to be the deadliest maze of all. Anyone who makes it out alive will get answers to the questions that the Gladers have been asking since they arrived in the maze. Stars Dylan O'Brien, Thomas Brodie-Sangster, Kaya Scodelario, and Ki Hong Lee. Rated PG-13 – Fantasy, Science fiction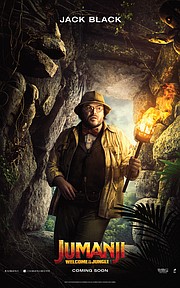 JUMANJI: WELCOME TO THE JUNGLE – Four high school kids discover an old video game console and are drawn into the game's jungle setting, literally becoming the adult avatars they chose. What they discover is that you don't just play Jumanji – you must survive it. To beat the game and return to the real world, they'll have to go on the most dangerous adventure of their lives, discover what Alan Parrish left 20 years ago, and change the way they think about themselves – or they'll be stuck in the game forever. Stars Dwayne Johnson, Karen Gillan, Kevin Hart, Jack Black, and Nick Jonas. Rated PG-13 – Fantasy, Action
12 STRONG – In the wake of Sept. 11, Capt. Mitch Nelson leads a U.S. Special Forces team into Afghanistan for an extremely dangerous mission. Once there, the soldiers develop an uneasy partnership with the Northern Alliance to take down the Taliban and its al-Qaida allies. Outgunned and outnumbered, Nelson and his forces face overwhelming odds in a fight against a ruthless enemy that takes no prisoners. Stars Chris Hemsworth, Michael Pena, Michael Shannon, Ben O'Toole, and Trevante Rhodes. Rated R – Action, History
HOSTILES – In 1892, legendary Army Capt. Joseph Blocker reluctantly agrees to escort a dying Cheyenne war chief and his family back to their tribal land. Embarking on a harrowing and perilous journey from Fort Berringer, N.M., to the grasslands of Montana, they soon encounter a young widow whose family was killed on the plains. The travelers must now band together to survive a punishing landscape that's crawling with hostile Comanches and vicious outliers. Stars Christian Bale, Rosamund Pike, Ben Foster, and Wed Studi. Rated R – Drama, Action
THE POST – Katharine Graham is the first female publisher of a major American newspaper -- The Washington Post. With help from editor Ben Bradlee, Graham races to catch up with The New York Times to expose a massive cover-up of government secrets that spans three decades and four U.S. presidents. Together, they must overcome their differences as they risk their careers -- and very freedom -- to help bring long-buried truths to light. Stars Meryl Streep, Tom Hanks, Alison Brie, Sarah Paulson, and Carrie Coon. Rated PG-13 – Drama, Thriller
THE GREATEST SHOWMAN – Inspired by the imagination of P.T. Barnum, The Greatest Showman is an original musical that celebrates the birth of show business & tells of a visionary who rose from nothing to create a spectacle that became a worldwide sensation. Stars Hugh Jackman, Zac Efron, Zendaya, Michelle Williams, and Rebecca Ferguson. Rated PG – Drama, Biography
DEN OF THIEVES – An elite unit from the Los Angeles County Sheriff's Department squares off against a crew of successful thieves who plan a seemingly impossible heist -- the city's Federal Reserve Bank. Stars Gerard Butler, 50 Cent, Pablo Schreiber, O'Shea Jackson Jr., and Evan Jones. Rated R – Thriller, Mystery
PADDINGTON 2 – Settled in with the Brown family, Paddington the bear is a popular member of the community who spreads joy and marmalade wherever he goes. One fine day, he spots a pop-up book in an antique shop -- the perfect present for his beloved aunt's 100th birthday. When a thief steals the prized book, Paddington embarks on an epic quest to unmask the culprit before Aunt Lucy's big celebration. Stars Hugh Grant, Ben Whishaw, Brendan Gleeson, and Sally Hawkins. Rated PG – Fantasy, Adventure
THE SHAPE OF WATER – Elisa is a mute, isolated woman who works as a cleaning lady in a hidden, high-security government laboratory in 1962 Baltimore. Her life changes forever when she discovers the lab's classified secret -- a mysterious, scaled creature from South America that lives in a water tank. As Elisa develops a unique bond with her new friend, she soon learns that its fate and very survival lies in the hands of a hostile government agent and a marine biologist. Stars Doug Jones, Michael Shannon, Sally Hawkins, Octavia Spencer and Michael Stuhlbarg. Rated R – Drama, Fantasy
THE COMMUTER – Insurance salesman Michael is on his daily commute home, which quickly becomes anything but routine. After being contacted by a mysterious stranger, Michael is forced to uncover the identity of a hidden passenger on the train before the last stop. As he works against the clock to solve the puzzle, he realizes a deadly plan is unfolding, and he is unwittingly caught up in a criminal conspiracy that carries life and death stakes for everyone on the train. Stars Liam Neeson, Vera Farmiga, Patrick Wilson, and Sam Neill. Rated PG-13 – Drama, Mystery
FOREVER MY GIRL – A music superstar reunites with his first love and realizes the steep price he has paid for his success in Forever My Girl, an uplifting and emotional romance based on the novel by New York Times and USA Today bestselling author Heidi McLaughlin. Liam Page (Alex Roe) and his high-school sweetheart Josie Preston (Jessica Rothe) were the golden couple of Saint Augustine, Louisiana, until Liam left her at the altar for a shot at fame and fortune. Eight years later, Liam returns to his tiny hometown for the first time as a world-famous recording artist, but not even his own father is thrilled to see him. As he tries to rebuild the bridges he burned years earlier, Liam reconnects with his small-town roots, his close-knit community and Josie, the girl he left behind. As he attempts to reclaim everything he loved and lost, Josie does her best to keep him out of her heart, but life has one more surprise waiting for Liam, one that could change everything, in this heartwarming look at love, family and second chances. Rated PG – Romance, Musical
STAR WARS: THE LAST JEDI – Rey (Daisy Ridley) develops her newly discovered abilities with the guidance of Luke Skywalker (Mark Hamill), who is unsettled by the strength of her powers. Meanwhile, the Resistance prepares to do battle with the First Order. Also stars Carrie Fisher, John Boyega, and Adam Driver. Rated PG-13 – Fantasy, Science fiction
PHANTOM THREAD – Set in the glamour of 1950's post-war London, renowned dressmaker Reynolds Woodcock (Daniel Day-Lewis) and his sister Cyril (Lesley Manville) are at the center of British fashion, dressing royalty, movie stars, heiresses, socialites, debutantes and dames with the distinct style of The House of Woodcock. Women come and go through Woodcock's life, providing the confirmed bachelor with inspiration and companionship, until he comes across a young, strong-willed woman, Alma (Vicky Krieps), who soon becomes a fixture in his life as his muse and lover. Once controlled and planned, he finds his carefully tailored life disrupted by love. With his latest film, Paul Thomas Anderson paints an illuminating portrait both of an artist on a creative journey, and the women who keep his world running. Phantom Thread is Paul Thomas Anderson's eighth movie, and his second collaboration with Daniel Day-Lewis. Rated R – Crime, Romance
THREE BILLBOARDS OUTSIDE EBBING, MISSOURI – After months have passed without a culprit in her daughter's murder case, Mildred Hayes makes a bold move, painting three signs leading into her town with a controversial message directed at William Willoughby, the town's revered chief of police. When his second-in-command, Officer Dixon -- an immature mother's boy with a penchant for violence -- gets involved, the battle is only exacerbated. Stars Frances McDormand, Woody Harrelson, Sam Rockwell, and Peter Dinklage. Rated R – Crime, Comedy
LADY BIRD – An outspoken teen must navigate a loving but turbulent relationship with her strong-willed mother over the course of an eventful and poignant senior year of high school. Stars Saoirse Ronan as "Lady Bird," Lucas Hedges, Timothee Chalamet, and Laurie Metcalf. Rated R – Drama, Comedy
More like this story
SUBMIT FEEDBACK
Click Below to:
This Week's Circulars
To view money-saving ads...