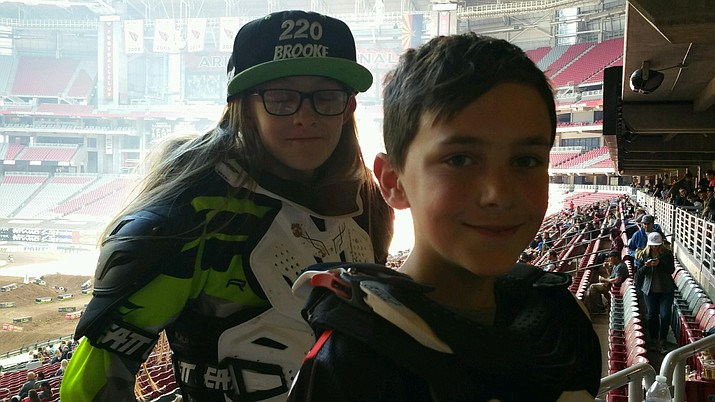 Originally Published: February 1, 2018 7:05 p.m.
Chino Valley youths Evan Roslan and Brooke Grinter competed in Sunday's Monster Energy AMA Supercross Amateur Day. And while they didn't place high in the competition, they weren't last, either.
Roslan placed 18th out of 19 competitors, and Grinter placed 16th out of 17.
According to Roslan's mother, Melissa Perrotti-Roslan, the two faced tough competition. She said she was proud of their willingness to participate in such a challenging race.
"I wouldn't even have had the guts to do that," Perrotti-Roslan said.
Roslan and Grinter are on a five-person team, Misfit Militia, but were the only two team members competing in the event, held at the University of Phoenix stadium in Glendale. It's the same track the pros use and raced on the day before, said Roslan's father, Paul Roslan.
Evan Roslan — a fifth-grade, honor roll student at Del Rio Elementary School — has been dirt biking for about six years, according to Paul Roslan.
The boy got into the sport because of his uncle, who is also a dirt biker, Perrotti-Roslan said. "He got him his first bike," she said. "Then just started giving him lessons."
Grinter is in eighth grade and said she has been dirt biking for about three years. Originally, she was planning to play baseball, she said, but now she dreams of racing as a pro. Evan Roslan also said he wants to go pro as a dirt biker.
The two have been in a number of races, and Evan Roslan said he's gotten tips and encouragement from professionals.
"A bunch of the pros encouraged me to get better and better," he said.
He added that he practices on weekends sometimes, and his father said the boy does a lot more than that. He does pullups, sit-ups and pushups every night, Paul Rosen said.
Grinter does a lot of cardio, as well, and is always on the treadmill, said her mother, Briana Grinter. It takes a lot of endurance, the girl's father, Richard Grinter, said.
"She was gone for the Christmas holidays and didn't get to practice for a while," he said. "You could see she was out of it because she didn't get her practice."
After Sunday's race, Evan Rosen said he plans to continue with his training. Eventually he'll compete at Loretta Lynn Ranch — the road to the pros, according to Paul Rosen.
The two students also excel off the track. Grinter is in band, where she plays the trumpet, and Evan Rosen is on the Student Council. Both are A and B students, Paul Rosen said.
"There's no good grades, there's no racing," Perrotti-Roslan said.