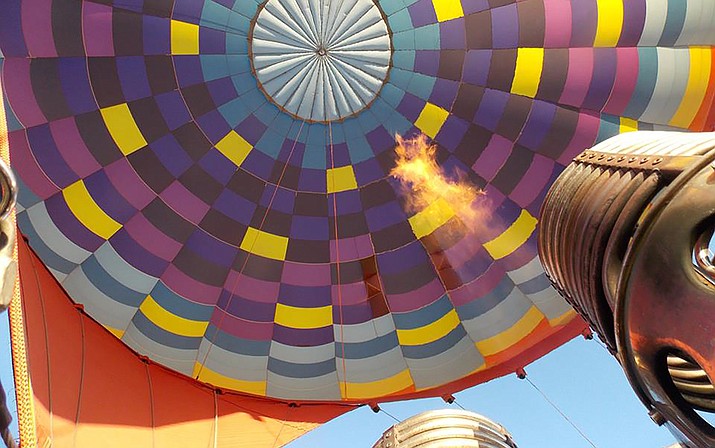 Photo by Tim Wiederaenders.
Originally Published: February 1, 2018 6:05 a.m.
By virtue of Prescott's location in the midst of 1.25 million acres of National Forest, adventure is, literally, all around.
Hiking, biking, and kayaking opportunities abound in the Prescott area — including everything from the 55-mile Prescott Circle Trail, to the Granite Mountain Wilderness area, to the scenic coves of Willow and Watson lakes.
Plenty of people are taking advantage. The City of Prescott reports 800,000 visits to its 93 miles of trails in 2017.
Those looking to kick it up a notch are in luck, too. Adventurous outings are available as nearby as Prescott's Granite Dells, Cottonwood's Verde Valley, and Sedona's Red Rocks.
Within no more than an hour-and-a-half's drive of Prescott, here are a dozen daring escapades:
• Hang gliding from Mingus Mountain
For hang gliders throughout the state, Mingus Mountain is "the center of the universe."
Kris Thomsen, a long-time local hang glider, says the Mingus Launch Site is optimal for a number of reasons. "There's 4,000 feet of altitude at that launch," he said, noting that wind conditions and temperatures needed for gliding "can happen all year long."
Hang gliders launch from the top of the mountain and typically land in Cottonwood.
Thomsen sees the sport as "big fun," and adds, "I don't know why everybody doesn't do it."
Although the launch site is located on the Prescott National Forest, Debbie Maneely, Forest Service public affairs officer, said the site is managed by the Arizona Hang Gliding & Paragliding Association.
More information on the association is available at: http://www.azhpa.org/index.php?option=com_content&view=featured&Itemid=337.
Forest Service information is available at: https://www.fs.usda.gov/recarea/prescott/recreation/otheractivities/recarea/?recid=67247&actid=47.
Previous experience is required to launch from the site, and no one will be allowed to fly there without a parachute and helmet, Thomsen said.
• Crossing the Devil's Bridge in Sedona
Up a series of red-rock switchbacks and a precarious rock staircase lies the Devil's Bridge, a natural sandstone arch overlooking sweeping views of Sedona's Red Rocks.
Francisca Adrian, assistant recreation staff officer for the Red Rock District of the Coconino National Forest, cautions that the spectacular site attracts large crowds on the weekends. "I would suggest trying to visit during the week," she said.
Adrian also advises trail users to bring plenty of water and to refrain from carving into the rocks.
More information about the site is available at: https://www.fs.usda.gov/recarea/coconino/recarea/?recid=55292
• Hot air ballooning over the Verde Valley
Unobstructed views of the Verde River and the Prescott National Forest are among the perks of a hot air balloon ride in the Verde Valley.
Leslie Cronin, customer sales representative for Verde Valley Balloons, says riders get a sunrise view of the wooded river channel.
With an "impeccable safety record," and a "highly entertaining pilot," Cronin said, "We are the most fun thing you will do."
Information on the company's pricing and schedules is available at: https://www.verdevalleyballoons.com/
• Horseback riding along Big Bug Creek in Mayer
For those who seek their adventures on the back of a horse, the Foothills Ranch in Mayer offers trail rides in the high desert.
Owner Al Bircher said the ranch has eight horses and offers rides along Big Bug and Grapevine creeks.
"We do small, private rides," Bircher said, noting that the guided rides are good for groups of family and friends.
Information is available at: http://foothills-ranch.com/index.html.
• Four-wheeling the historic stagecoach route to Palace Station
To follow in the tracks of 1870s-era stagecoaches, local adventurers need to go no farther than Senator Highway.
About 17 miles south of Prescott, on the forest road, lies Palace Station, a stage stop that dates back about 140 years.
Maneely said recent construction work on Senator Highway smoothed the road somewhat. Four-wheel-drive vehicles are technically not required for the drive, she said, but vehicles should be high-clearance to handle the rough terrain.
More information is available at: https://www.fs.usda.gov/detail/prescott/about-forest/?cid=fswdev3_009842
• Zip lining over the predators at Out of Africa Wildlife Park
For a birds-eye view of the wildlife of Africa, the Predator Zip Line is available at Camp Verde's Out of Africa.
According to Jason Little, the park's general manager, the line runs nearly 100 feet above the ground for more than a mile.
Zip-liners are able to see all of the animals of the park, as well as panoramic views of the surrounding mountains and forest land, Little said.
Information is available at: https://outofafricapark.com/zip-line-runs/
• Mountain biking the 50-proof (or the 15- or 30-proof) in the Whiskey Off-Road
Set for April 27 to 29, the 15th annual Whiskey Off-Road starts on Prescott historical Whiskey Row and climbs deep into the Prescott National Forest.
Riders can choose from a variety of distances, including 15, 30, and 50 miles.
Information is available at: https://epicrides.com/events/whiskey-off-road/event-guide/
• Rock climbing the Granite Dells
With its towering spires and sheer drops, Prescott's Granite Dells area is a natural for rock climbing.
In fact, long-time local climber Kevin Keith describes the entire community as "a sleepy little climbing mecca."
Granite Dells area is just one of a number of excellent climbing spots, Keith said. Others include Granite Mountain, Thumb Butte and Little Granite Mountain (restrictions begin Feb. 1 on Granite Mountain and Thumb Butte to avoid interrupting the nesting of peregrine falcons).
A book by Keith outlines more than 650 single- and multi-pitch climbing routes, with a mix of bolted and traditionally protected spots. (https://www.amazon.com/Granite-Dells-Climbing-Guide/dp/1539087417).
The book is also available locally at the Hike Shack (http://thehikeshack.com/); Manzanita Outfitters (http://manzanitaoutfitters.com/); and Peregrine Book Company (http://www.peregrinebookcompany.com/).
Information on local climbing is available at: https://prescottclimbers.com/.
• Boarding the bowls at the Mike Fann Community Skate Park
For those hoping to test their skills on skateboards and bikes, the City of Prescott's Mike Fann Community Skate Park is the go-to spot.
The skatepark, which was built through a major fundraising effort in 2005, includes a mix of street and vertical skating, with a variety of ledges, banks, stair sets, and bowls.
The park is located at the corner of East Willis Street and South Arizona Avenue inside the Ken Lindley Park.
More information is available at: http://www.prescott-az.gov/services/parks/parks/index.php?id=32
• Chasing waterfalls at Fossil Creek
The spring-fed Fossil Creek waterfall, with its blue-green-hued water, has become so popular in recent years that the Coconino National Forest began a reservation policy between April 1 and October 1.
For those hoping for a less crowded experience, winter could be the season to visit – especially if this year's mild temperatures continue, Adrian said.
"Right now, Fossil Creek is attracting mostly the bird-watching and nature crowd," she said.
While diving from the waterfall is popular in the warmer weather, Adrian says the Forest Service "strongly suggests against" the activity.
Information is available at: https://www.fs.usda.gov/recarea/coconino/recarea/?recid=75356
• Kayaking Watson Lake
For access to otherwise hard-to-reach coves, kayaks and canoes offer a laid-back activity on Watson Lake.
Information on rentals is available at: http://prescottoutdoors.com/
• Off-roading in the Pink Jeeps of the Red Rocks
A classic activity in Sedona, The Pink Jeep tours take riders deep into the Red Rocks.
Information is available at: https://www.pinkadventuretours.com/
More like this story