Prescott Police arrest suspect sought in Quick Stop armed robbery

Originally Published: December 31, 2018 3:35 p.m.
Updated as of Monday, December 31, 2018 6:07 PM
A concerned citizen's call spotting a suspicious vehicle fitting the description of an alleged getaway car from an armed robbery at Quick Stop in Prescott last weekend turned into an arrest by officers from the Prescott Police Department on Sunday morning.
Patrick Pruitt, a 22-year-old Prescott resident, was arrested without incident and booked into Yavapai County Jail for allegedly robbing the Quick Stop Convenience Store at 447 S. Montezuma St. around 9:20 a.m. Saturday, Dec. 29.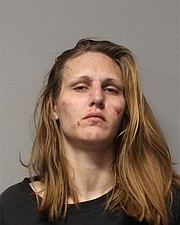 "The Prescott Police Department would like to thank the community for the many calls and information that was shared during this investigation," Chief of Police Debora Black said in a press release. "Additionally, the Phoenix Police Department gave critical investigative assistance during this case."
Officers responded to the 200 block of S. Pleasant Street at approximately 10:15 a.m. Sunday to investigate the car believed to be the same make and model as the one involved in the recent armed robbery.
Upon their arrival, officers noticed the car smelled like fresh spray paint and appeared to be "very poorly painted in a haphazard fashion," according to a press release.
An investigation led officers to believe it was in fact the suspect vehicle that was being sought out in connection with the robbery. Evidence gathered at the scene led officers to identify Pruitt, and he was later located in a home at the 200 block of S. Pleasant Street and taken into custody.
Additional evidence located in the home tied Pruitt to the robbery. Narcotic drugs were also found in his possession.
Saeti M. Tobin, a 24-year-old from New Hampshire, was also taken into custody for a local warrant and possession of drug paraphernalia.
It is unknown if Tobin was involved in the armed robbery.
ROBBERY RECAP
On Dec. 29, an unidentified man entered the Quick Stop carrying a navy colored bag was armed with a rifle and demanded the store clerk put money from the cash register into the bag. The clerk complied and the suspect left with an unknown amount of cash.
The getaway car was caught on the store's security cameras. Video from inside and outside the store was released to the media in effort to help catch the robber.
Brian M. Bergner Jr. is news/sports editor for The Daily Courier of Prescott News Network. Follow him on Twitter, Facebook, Instagram and SoundCloud at @TheEditorDesk. Email bbergner@prescottaz.com or call 928-445-3333, ext. 1106.
More like this story
SUBMIT FEEDBACK
Click Below to: