Some local roads begin to reopen after New Year's Eve snowstorm
Estimated 2.5 inches of snow falls in Prescott

Originally Published: December 31, 2018 5:46 p.m.
EDITOR'S NOTE: Continue to watch dCourier.com for updates on more road openings and further weather coming to the Prescott area.
A fast-moving winter storm on the last day of 2018 dumped more than 2 inches of snow on the Prescott and surrounding areas Monday.
According to wunderground.com, Prescott received 2.2 inches of snow as of 5:35 p.m.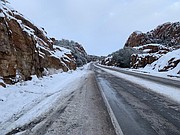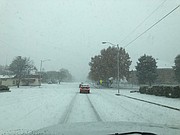 By 5 p.m. Monday, some of the roads in the quad-city area were reportedly open, and snowplows continued to work on clearing side roads throughout Prescott and Prescott Valley.
Sgt. Jason Kaufman of the Prescott Valley Police Department said both Robert Road and Glassford Hill Road were reopened by Monday evening, except for a small portion east of Spouse Road.
An update from the Yavapai County Sheriff's Office at 3:30 p.m. stated Highway 169 was reopened between Highway 69 in Dewey-Humboldt and I-17 near Cordes Lakes.
The Arizona Department of Transportation reported via their Twitter account at 4:42 p.m. that I-17 northbound was reopened south of Highway 169.
Lt. Kevin Perlak of the Prescott Police Department responded to a Courier request for road information via email at 5:47 p.m., stating road closures are still in effect for Elks Hill.
"This is the road we have officially closed, which is typical during winter storm events," Perlak said.
Perlak added that Marina Street, Union Street, and Carlton Street between Mt. Vernon and Marina Street, may still be "impassible."
Also, Highway 89 from Willow Lake Road to Highway 89A were blocked, both north and southbound lanes, for a time, but traffic is moving at a slow pace.
ADOT also reported a freeze warning was in effect until 9 a.m. Tuesday, Jan. 1, for parts of southern Arizona.
Any snow or slush remaining on Prescott streets will likely freeze overnight with temperatures expected in the low teens.
DRIVING TIPS
Prescott P.D. did issue a "Safe Winter Driving" warning via their Facebook page with a few driving tips:
-Maintain your car: Check battery, tire tread and windshield wipers before going out.
-Have on hand: Flashlight, jumper cables, shovel, snow brush and ice scraper.
-Stopped or stalled: Stay in your car, don't overexert, put bright markers on antenna or windows and shine dome light.
-Plan your route: Allow plenty of time for arrival and be familiar with maps or directions.
-Practice cold weather driving: Steer into skid. Stomp on antilock brakes, pump non-antilock brakes.
-Protect yourself: Buckle up, and use child safety seats properly.
Brian M. Bergner Jr. is news/sports editor for The Daily Courier of Prescott News Network. Follow him on Twitter, Facebook, Instagram and SoundCloud at @TheEditorDesk. Email bbergner@prescottaz.com or call 928-445-3333, ext. 1106.
More like this story
SUBMIT FEEDBACK
Click Below to: