Performing keeps Sky Daddy going
Originally Published: December 27, 2018 9:18 p.m.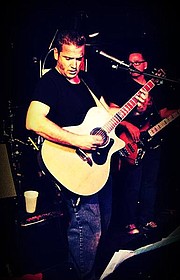 As a self-described "song and dance man," Sky Conwell, known throughout the Prescott area as Sky Daddy, says it's performing that has kept him going all these years.
"That's when I feel alive. I think that's what God created me to do," Conwell said. "That's when I'm really worshiping God is when I'm doing what he created me to do. I feel alive, I feel at peace."
Conwell, who is a guitar player, singer and songwriter, said he's like Elvis Presley in going out to make everyone who comes to his shows happy. He also tries to honor all requests and when he sees people moved to tears from his music or they share memories, it means more to him than money, he said. Like when he was a teacher, he's changing people's lives but in a different way.
Conwell has been performing since he was in high school but back then it was a hobby and he was discouraged to do it as a career due to how much luck was involved in doing music as a full-time job, he said.
"I went to college, I got my degree in business but in my heart, I really just wanted to be a musician," Conwell said. "In college I remember doing a gig for a wedding. They paid me $50 to learn one song for this wedding and I guess the bug was in me from that point on."
That's when Conwell formed a Christian rock band called Groove Yard and a classic rock band called the Straight Arrow Band and he worked up from there. At one point, he was a fill-in guitar player for Luther Jackson as well, he said.
Conwell said he moved to Prescott Valley in 2000, which is when he formed the Pop Rocks. After losing his job in 2013, he went all the way with his music, he said. He reinvents himself every once in a while and has a lot of different projects in order to provide a wide variety of entertainment, Conwell said. He's also diverse in his musical tastes.
"Somebody told me that I play a lot of things, but I play it all well," Conwell said.
For the music he writes, Conwell said he used to be inspired by his imagination before his life got serious. When he went through a divorce and didn't get to see his kids as often as he liked, his songwriting started to get as real as his life, he said. He's started to get back into using his imagination to write songs that are more fun.
Conwell plays almost every day and his calendar, which is constantly updated, can be found at www.skydaddy.net.
More like this story
SUBMIT FEEDBACK
Click Below to: