Originally Published: December 27, 2018 9:32 p.m.
Ring in the New Year the Prescott way as the community celebrates the beginning of 2019 next week at the eighth annual Whiskey Row Boot Drop.
The event begins at 8 p.m. Monday, Dec. 31, and there will be two drops: one at 10 p.m., coinciding with the East Coast reaching midnight, and another at midnight. Fireworks are set to accompany both drops, said M&M Entertainment & Productions Co-founder Matt Brassard.
"The ones who don't want to stay out late, they can still enjoy fireworks," Brassard said, noting the cancellation of Tempe's fireworks. "That could be good for us."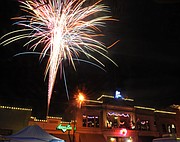 This year's entertainment includes fire dancers, a Ferris wheel and carnival games, he said. While last year was the final event for Pistol Pete's Shooting Gallery, which was sold back to the manufacturer due to a lack of business, a shooting gallery will still be among the carnival games, Brassard said.
The main event though is the six-foot tall, illuminated cowboy boot dropping from the flagpole on top of The Palace and Jersey Lilly saloons. Originally created by Stephan Markov of Morgan Signs, it has more than 1,000 LED lights and can flash all kinds of different ways thanks to a remote.
The Whiskey Row Boot Drop gives Prescott a free community New Year's Eve celebration, allowing everyone from all walks of life to get together in a fun atmosphere, Brassard said. In the years prior to the event's formation, New Year's Eve wasn't really a big night in the area and there was no reason for visitors to stay after Christmas, he said.
"If you had family from out of town, there wasn't a lot going on," Brassard said. "Now, with the Boot Drop, a lot of people are having their family stay or people are coming up."
Brassard mentioned that before the event was created, hotel occupancy in the area was about 25 percent around New Year's Eve. Many of them are nearly sold out these days thanks to the event.
The Whiskey Row Boot Drop has a small town feel to it and those who come feel a sense of community and camaraderie, Brassard said. It's family friendly with no alcohol too so families can enjoy the event and feel safe at the same time, he added.
Brassard also thanked all the sponsors, adding that without their support, the event wouldn't be able to happen.
For more information about the eighth annual Whiskey Row Boot Drop, visit www.bootdrop.com.
By Jason Wheeler, follow him on Twitter @Prescott Wheels, reach him at 928-445-3333 ext. 2037.
More like this story
SUBMIT FEEDBACK
Click Below to:
This Week's Circulars
To view money-saving ads...