A chance for adults to color together

Originally Published: December 20, 2018 10:22 p.m.
For a little more than two years, the Prescott Valley Public Library has been offering free coloring classes for adults, led by Teen Library Assistant Coleen Bornschlegel.
When the class first started, it gained a consistent group of about 10 to 12 people and that number has only grown, Bornschlegel said.
"There's definitely a core group of people that have been very consistent over the two years," she said. "Eventually that core number has grown to probably 20 or 25. Not everyone comes every time we have it but enough people have come enough times that we actually had to move from the Glassford Hill room to the Crystal Room."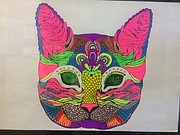 One thing that really appeals to people about the coloring class is that participants don't necessarily have to be artistic, Bornschlegel said. While there is an element of skill that can be developed or practiced, the image is already there, she said. Recently, there have been more and more coloring books oriented toward adults and some even enjoy the more children-oriented books because of the style, Bornschlegel said.
It's held from 1 to 3 p.m. on the first and third Fridays of the month and people can either bring their own materials or choose from a variety of coloring pages and materials. Bornschlegel said she tries to create a casual environment where there are no mistakes.
"Coloring is very casual, there's not a lot of investment in it," she said, adding she even throws in a little basic instruction so people can have more insight as opposed to simply coloring back and forth like kids traditionally do.
At its core, the class allows adults to be able to do a specific activity that's compatible with being sociable and allowing a creative outlet, Bornschlegel said. The only rule she has is if someone is not enjoying what they're doing then they should pick something else. After all, she said, there's no point in forcing yourself to enjoy something you're doing for leisure.
It's thanks to the consistent schedule that the class has been going on for so long, allowing it to build up a reputation, Bornschlegel said. There's been such a positive turnout that even people who have come a couple of times have enjoyed it, she said.
For more information about the Prescott Valley Public Library's Adult Coloring Classes, call 928-759-3040. The Prescott Valley Public Library is located at 7401 E. Skoog Blvd.
By Jason Wheeler, follow him on Twitter @PrescottWheels, reach him at 928-445-333 ext. 2037.
More like this story
SUBMIT FEEDBACK
Click Below to: