Hate letter to NAACP escalates race tensions

By
Cindy Barks
|
Cindy_Barks
Originally Published: December 19, 2018 8:49 p.m.
Updated as of Wednesday, December 19, 2018 9:11 PM
Mobile users click here for photo view option
A racial-slur-laced letter that a Chino Valley resident sent to the leader of the East Valley NAACP this week has escalated the tensions that originated with state Rep. David Stringer's racial comments in November.
Roy Tatem Jr., president of the East Valley NAACP, said the letter he received Tuesday, Dec. 19, on hand-stamped letterhead from a Chino Valley resident was "one of the harshest letters I've ever received."
The hand-written letter refers to Tatem's earlier call for a travel boycott of Prescott as "good news," and goes on to say that the boycott would mean that the area would "be seeing fewer Democrats & fewer (racial epithet), and that means less crime and less stink."
Earlier this month, Tatem called for the removal of Stringer from the State Legislature, after the Prescott legislator was recorded saying that African immigrants "don't blend in," and that non-English-speaking immigrants pose a burden on the U.S.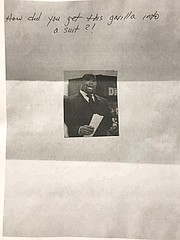 Tatem vehemently condemned Stringer's comments at the time, and Wednesday, Dec. 19, he said, "I believe that people like (the Chino Valley letter writer) were the reason David Stringer feels empowered and emboldened."
Along with his call for Stringer's resignation, Tatem called for a travel boycott of Prescott until Stringer is removed from the Legislature.
That led to a Dec. 14 meeting between Tatem and Prescott Mayor Greg Mengarelli, which both parties later termed "positive."
The two sides reportedly talked about steps that Prescott could take to make the community, which is overwhelmingly Caucasian, more welcoming to African Americans and multi-culturalism.
But Tatem said this week that the letter casts a negative light on the Prescott area. "Being called a (racial epithet) and a gorilla doesn't help the cause of Prescott," he said.
During the Dec. 14 private luncheon meeting, Tatem and Mengarelli reportedly discussed the possible creation of a Prescott "diversity board," as well as a possible city position that promotes diversity and inclusion.
The letter that Tatem received this week belittles Mengarelli's efforts in a profane rant, and claims that "there are plenty of intellectually honest people all over the U.S. who know that what David Stringer said is true."
Wednesday evening, Mengarelli called the language in the letter "absolutely unacceptable," and said the city "stands against this kind of hatred."
The day after Stringer's November comments were published in the Phoenix New Times, Mengarelli and other Prescott City Council members called a special meeting to consider a statement condemning the comments. On Dec. 4, the council voted 6-1 to approve the condemnation and call for Stringer's resignation.
This week, Mengarelli repeated the city's stand on Stringer's comments, and said the Chino Valley letter "is not a true reflection of our communities up here."
The mayor added that city officials have been discussing the initiatives that came up at the Dec. 14 meeting. After learning about the explosive letter on Wednesday, Mengarelli said, "I did reach out to Roy Tatem, and I hope to talk to him tomorrow."
After that, he said, the city could release a statement on the initiatives.
Tatem said he and other members of the civil rights organization have been waiting to hear Prescott's response to the ideas that came up at the Dec. 14 meeting. Meanwhile, he said, the boycott of Prescott continues.
And although Tatem said some people have suggested that he and the NAACP should make an appearance in Prescott's annual Martin Luther King Jr. parade in January, he said, "I don't think that's a good idea."
Tatem said he has notified the FBI about the menacing nature of the letter from the Chino Valley resident. "I look at it as a threat," he said.
Stringer, who announced at a Dec. 6 Prescott Valley Town Council meeting that he has no intention of resigning from the Legislature, did not respond to a Daily Courier request for comment on Wednesday. State Rep. Noel Campbell was unaware of the letter and did not have a comment, and Senate President Karen Fann was unavailable for comment.
The Chino Valley letter writer also could not be reached for comment Wednesday.
The Courier is not reporting the name of the alleged writer until authorship has been independently confirmed.
Follow Cindy Barks on Twitter @Cindy_Barks. Reach her at 928-445-3333, ext. 2034, or cbarks@prescottaz.com.
More like this story
SUBMIT FEEDBACK
Click Below to: