Staff recommends $1.5M property tax levy
Original percentages rounded to nearest hundred dollars, says finance manager

Originally Published: December 18, 2018 7:28 p.m.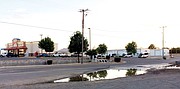 Chino Valley town staff recommended a $1.5 million property tax levy, an amount originally given as a 2 percent property tax, at the Chino Valley Town Council meeting Tuesday, Dec. 11.
The original percentages for the proposed property tax, 2 percent and 1.5 percent, were rounded to the nearest hundred dollars, said Finance Manager Joe Duffy. The 1.5 percent property tax would be a $1.2 million property tax levy.
The reason for the change is because voters have to approve an initial levy amount rather than a percentage, Duffy said. If approved, the town tells the county how much it's going to levy, and it only has the option to levy the fixed amount, he said.
"Every year, we'll levy the 1.5 but as new homes are built, we're allowed to put in their assessed value and increase the levy for the amount of new construction that's added in every year," Duffy said. "Council, by state law, can increase that levy up to 2 percent per year."
At the same time, if the town receives additional money for roads, council has the option to reduce the property tax levy, he said. Currently though, after paying for things like salaries, equipment and fuel, the town has about $400,000 left in its Highway User Revenue Fund budget, Duffy said in an October meeting where council approved for the beginning of a dialogue between the community and the town regarding a road maintenance plan and how to pay for it.
On Tuesday, Town Manager Cecilia Grittman noted there have been several meetings with the public on the subject and feedback has been positive.
"We've kind of honed our message in over time," Grittman said. "I felt like it was a good dialogue."
With the goal of treating every road in Chino Valley at least once every seven years and maintain all 153 miles over 20 years, the cost would add up to $32,500,000 over those two decades and come out to about $1.6 to $1.7 million per year, said Public Works Director Frank Marbury in October.
The advantage to the $1.5 million levy over the $1.2 million levy is it will bring in an extra $300,000 each year that will be put away for bigger projects, Duffy said Tuesday.
For a $100,000 home, a $1.2 million levy would be $150 per year and $12.50 per month and a $1.5 million levy would be $200 per year or $16.67 per month.
Council is expected to decide on either the $1.5 million or $1.2 million property tax levy and call for a special election at its Tuesday, Jan. 8, meeting. The election will be held on Tuesday, May 21, where voters will also decide on whether or not the town can purchase the water companies in Chino Valley.
More like this story
SUBMIT FEEDBACK
Click Below to: