$4.72 million invested by federal VA for columbarium
Prescott National Cemetery builds second columbarium

By
Nanci Hutson
|
HutsonNanci
Originally Published: December 17, 2018 7:35 p.m.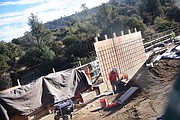 At the intersection of Highway 69 and 89 behind a stone entrance gate is the final resting place for thousands of Prescott and Northern Arizona veterans, a bucolic 15-acre park-like space with a circular driveway that traverses the six-acre burial ground.
Along the far western edge are two, long dark-stone columns of white marble-faced spaces that house 3,000 cremated remains of deceased veterans and their spouses.
Hidden behind a protective green screen on the Prescott National Cemetery's far east side is construction equipment, upended earth and parts of what will is soon to be a $4.72 million addition on about two acres of the cemetery-a second columbarium able to hold the cremated remains of 3,536 veterans and their spouses as well those of disabled or minor children.
This will be the cemetery's second such addition – the first, 3,000-niche columbarium was built in 2007. The federal Department of Veteran Affairs invested $2.4 million in the first project that also included construction of a road, landscaping and irrigation and sidewalks next to what was two long rows of niches.
The burial grounds of the Prescott National Cemetery were closed to internments in 1974 for other than immediate family of those already interred. The cemetery was listed on the National Register of Historic Places in 1999 – the property includes a marble Unknown Soldier monument.
As of the end of 2005, the national VA said the cemetery had 3,153 interments with many of those dating back to the Indian Wars The original cemetery was located at Fort Whipple, home now to the main 164-acre campus of the Northern Arizona Veteran Affairs Health Care System.
The opening for the latest addition is scheduled to occur in April, officials said.
The last niche for the existing 3,000-nice columbarium was held just before Thanksgiving in November, said Cemetery Technician and Administrator Becky Durocher.
"The expansion projects are result of the National Cemetery Administration's plan for future growth of the cemetery," said Jerry Rainey, director of the National Memorial Cemetery of Arizona.
This new project that will incorporate a new design with is expected to serve the needs of this region for the next decade, officials said.
The existing columbarium is composed of two, long rows with sidewalks and benches in front of them. The new area will be oriented with smaller arrangements but with matching materials so that the cemetery still maintains a uniform, attractive appearance, Durocher explained.
National cemeteries are available to any member of the United States military – as well as certain family members - who dies while on active duty, or any veteran who was honorably discharged.
The hope was to have the new columbarium open before the final niche in the original structure was filled, Rainey and Durocher said. The cemetery has about 272 "inurnments" each year.
"Unfortunately, the project is taking longer than we expected because of site grading, soils issues, and weather-related delays," said Rainey of the construction that started in November 2017.
"We regret any inconvenience this may cause families. We are committed to do our best in accommodating veterans and their loved ones' requests while we expand our future burial availability," Rainey said.
Durocher said she is now keeping a waiting list for eligible veterans, but so far there are only six families on that list.
Though remains cannot be placed into the niches until all the work is complete, Durocher said the cemetery still can schedule and perform funeral ceremonies at its memorial chapel. She, too, will continue to expand the waiting list as needed.
The cemetery is open for visitors from dawn to dusk.
Follow Nanci Hutson on Twitter @HutsonNanci. Reach her at 928-445-3333 ext. 2041.
More like this story
SUBMIT FEEDBACK
Click Below to:
This Week's Circulars
To view money-saving ads...