Need2Know: Construction on Whipple; Pickleball coffee shop at Mall

By
Max Efrein
|
mefrein
Originally Published: December 15, 2018 5:20 p.m.
Updated as of Saturday, December 15, 2018 9:45 PM
Construction on Whipple
A geriatric/psychiatric hospital is currently under construction at 181 Whipple St. (adjacent to Sonic Drive-In).
Construction began on the project in early November and is expected to be close to completion by September 2019, said Brian Bombardieri, owner of B's Contractors, the company working on the construction plan.
The hospital will feature a 1,500-square-foot building with 16 rooms and a 500-square-foot covered deck, said Bryn Stotler, director of community development for the City of Prescott.
Pickleball coffee shop at Mall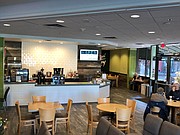 In partnership with Starting Point Church, Nashville transplant Josiah Chulze has opened a coffee shop at the Prescott Gateway Mall called Third Shot Coffee.
He and the church remodeled the old Celtic Crossings Pub and the coffee shop opened for business as of last month.
The shop's theme is Pickleball, a sport that combines elements of badminton, tennis and table tennis. It also features special three-shot espresso lattes.
Meeting rooms are available in the shop for free.
To submit items for the Courier's Need2Know, email twieds@prescottaz.com; for legal advertisements, email ssialega@prescottaz.com.
More like this story
SUBMIT FEEDBACK
Click Below to: