Decrepit property where homicide occurred transformed into vacation rental
Landlord or seller not required to disclose property's checkered past

By
Max Efrein
|
mefrein
Originally Published: December 15, 2018 10:17 p.m.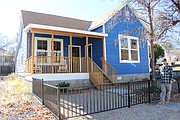 Looking at 429 Beach Ave., one would never think it used to be a dilapidated home with a troubled past.
A black metal gate corrals a clean front yard with a cement path leading up to a hospitable-looking residence. A spotless exterior with a fresh coat of royal blue paint invites the eye and sends the message that the building was likely just constructed.
This sharply contrasts with what the property looked like three years ago. The building had been in shambles and the grounds were overgrown and unkempt.
Additionally, its previous owner, David Rodriguez-Rodriguez, had been beaten to death in the backyard by three homeless men who had been living there in tents (https://bit.ly/2B9BS6Q).
"Nobody wanted to touch it," said Jason Orefice, who bought the property after it fell into foreclosure shortly after the homicide. "[The house] had like human feces on the walls and was falling over."
But Orefice, who flips homes and rents out units for a living, wasn't intimidated. Given the property's close proximity to downtown Prescott, he knew it was worth the investment and that he could transform the home into something desirable. While many believed the early 1900s building should just be torn down and replaced with a new structure, he had other plans.

"I like to preserve older houses," Orefice said. "I knew I could bring it back to life."
He had the building lifted off the ground with four 60-foot steel beams and some hydraulics so a new foundation could be poured. He then stripped the building down to its bones and replaced just about everything while maintaining its original design.
"He did a really good job," said Dino Wallerich, a local real estate broker who lives directly across the street.
Wallerich knew Rodriguez-Rodriguez and clearly remembers what the property looked like before.
"It was pretty rough," he said.
Watching the old home being lifted and deconstructed was fascinating, he said.
"When they were redoing the foundation, there were tree stumps underneath there that were actually holding the old house up," he said.
"In the old days, they'd cut down trees, and if they were in the way, they'd sometimes just use them for support under the floor."
He then noticed that when the windows were being taken out, their frames were stuffed with newspapers dating back to 1938.
"They used this newspaper for insulation," he said.
The construction workers said they were just going to throw the tattered newspaper bits away, so Wallerich asked if he could have some of it.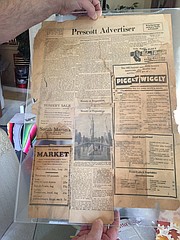 He took the pieces home and did his best to reconstruct some of the pages.
"It was dry and just falling apart, so I put it in a big plastic bag and humidified it," he said. "I did that for about three or four months and finally got to the point where I could undo the paper without it crumbling and falling apart."

Orefice took some old parts of the home as well — including some of the original wood — and ended up installing bits and pieces in one of his other rental units in town.
"I like the look of it," Orefice said.
Starting in February, visitors to Prescott will begin using the Beach Avenue home as a vacation rental.
"It's a perfect location," he said.
FULL DISCLOSURE?
And according to Arizona case law, he doesn't have to disclose to renters or buyers — if he ever decides to sell it — that a murder occurred on the property.
Of course, if anyone looking at buying the home wanted to know more about it before committing, they could simply talk to neighbors like Wallerich — who sells homes for a living — to get the full story.
"I always encourage people to [talk to neighbors] before they buy [a home], in case the neighbor says something that they don't like," Wallerich said.
More like this story
SUBMIT FEEDBACK
Click Below to: