City of Prescott aims to make downtown events safer
Ambitious bollard project

By
Cindy Barks
|
Cindy_Barks
Originally Published: December 14, 2018 9:12 p.m.
Parade-goers and New Year's Eve revelers can rest assured: Ongoing efforts continue to improve the safety of events in downtown Prescott.
Already, a series of bollard barriers, temporary "Jersey barriers," and garbage trucks are being used to ensure that events such as the Prescott Christmas Parade and the upcoming New Year's Eve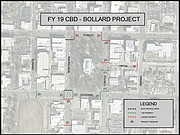 Boot Drop are protected from intentional or accidental damage by an errant vehicle.
Permanent bollards – posts built into underground sleeves in the streets – were installed at both ends of Whiskey Row in 2015 and are regularly used to protect pedestrians during popular downtown events.
At other busy intersections, Police Lt. Jon Brambila points out that the city uses either garbage/dump trucks or rented water-filled "Jersey barriers" to block off streets from vehicular traffic.
IMPROVING UPON PREVIOUS YEAR
The move toward heightened safety measures began prior to the 2017 Christmas season, when the city sent out a series of news releases to alert the community about the changes.
For this Christmas season, Brambila said, the Police Department continued the plan, with a few adjustments.
"We tried to improve upon it this year," he said. "We learned a few things last year."
Along with the return of city trucks parked at strategic corners, security at this year's (Dec. 1) Christmas Parade and Courthouse Lighting included new locations for the officers stationed on downtown rooftops, as well as assistance from the Yavapai County Sheriff's Office helicopter.
The 2018 Christmas events proceeded without any suspicious activity, Brambila said. "This year, we didn't have anything," he said. "It was really, really smooth."
BOLLARD PROJECT
Still, more measures are in the works to strengthen security in the future.
In the coming months, the city is planning for the installation of more of the permanent bollards.
Public Works Director Craig Dotseth pointed out that several bollard installations were included in the plans for the Carleton/Cortez street reconstruction project, which recently got underway.
Bollards are being added at the Cortez/Goodwin street intersection in front of Prescott City Hall, Dotseth said, as well as on Carleton near the Prescott Mile High Middle School.
Meanwhile, the Police and Public Works departments worked together to come up with other high-priority corners for the bollards. "A few areas were identified as being more critical," Brambila said.
A map from Public Works shows high-priority needs on Cortez at Union and Goodwin, as well as on Goodwin at Montezuma, Cortez, and Granite streets.
Lower priority areas were identified on Gurley at Montezuma and Cortez; Cortez at Gurley and Union; Union at Marina Street; and Montezuma at Goodwin and Carleton. (See attached map.)
Dotseth said funding likely would be proposed for next year's fiscal year budget to cover the cost for the future bollards.
CRASH GATE GRANT
Meanwhile, the Police Department is moving forward with a grant that will cover the cost of a portable crash gate and bollards.
Brambila said the department applied for and received approval for a $65,000 grant through the state and federal departments of Homeland Security.
He explained that while the use of city trucks and Jersey barriers has been effective for the past two years, the city is looking for a more permanent solution.
"It works; we're using what we have available," Brambila said of the current security measures.
But, he said, the use of trucks and temporary barriers creates more staff time. "When we use the garbage and dump trucks, we have to have drivers," he said, pointing out that the trucks might need to be moved in the event of a fire or other emergency.
While the cost total for this year's holiday security is not yet available, city officials estimated that last year's cost for the three Christmas events topped $9,000.
The portable crash gate and temporary bollards will be less labor-intensive, Brambila said, because the equipment can be moved into place, and Fire Department personnel would have the ability to automatically open the crash gates.
The $65,000 in grant money became available on Oct. 1, and Brambila said the city currently is in the procurement process for the equipment. It could be on hand in time for April's Whiskey Off-Road mountain bike races.
SUBMIT FEEDBACK
Click Below to:
More like this story