Originally Published: December 13, 2018 7:42 p.m.
Get some last-minute holiday gifts, or maybe some unique gifts to give in the coming year, at the 27th annual Last-Minute Non-Profit Stocking-Stuffer Bazaar this weekend.
Put on by Debbie and Don Stewart, it's an event that was originally started for various agencies to sell everything left over from their own events, Don Stewart said. This year there's 56 different vendors with new, high quality items at a low cost, making it a win-win, Debbie Stewart said.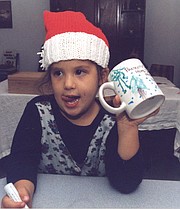 "The public is able to get their shopping needs met and the nonprofits are able to raise some money for their organizations," she said, adding the event also provides awareness. "We ask all of the nonprofits to bring literature about their organization in case anyone is looking to volunteer or donate to a nonprofit, they'll be able to learn about a variety of agencies on that day."
Some of the nonprofits will have a few high-end items that they know are of a significant value as well, Don Stewart said. Others will have food which provides an opportunity for those who have upcoming parties to buy goodies without having to take the time out of their shopping schedule, he said. Further, with some craftsmen who come and sell their products not available in any store, there are plenty of unique items, Don Stewart said.
Vendors include the American Legion, Skull Valley Historical Society, the Yarnell Fire Auxiliary, Yavapai Gourd Patch, the Prescott Area Woodturners, People Who Care and several churches.
The bazaar is from 10 a.m. to 4 p.m. Saturday, Dec. 15, and Santa shows up from noon to 2 p.m. with gifts for children accompanied by an adult.
It always turns out to be a very festive event, Don Stewart said.
"It's one of those times of the year where people tend to tolerate others a lot better and it's nice to be able to support the Posse and be responsible for getting good gifts in the community's hands," he said.
While each individual nonprofit and vendor gets the proceeds from what they make in their booth, helping to support the agencies in their missions for the year, the money from the booth rental fees goes to the Yavapai County Jeep Posse, said Debbie Stewart.
Located at the Grace Sparkes Activity Center, 824 E. Gurley St., the best thing to do is come early for the best selection and then return later for the best deals because that's when the nonprofits don't want to have to take the items home with them and they start slashing their prices, Debbie Stewart said. She also offers a "gift guarantee."
"I guarantee you'll find something for everyone on your shopping list," Debbie Stewart said. "If you can't, find me … I know what all the vendors are selling. Nobody has ever taken me up on that."
Debbie Stewart said she'll have on the Cat in the Hat's red and white hat during the event.
For more information, visit www.stocking-stuffer-bazaar.com.
More like this story
SUBMIT FEEDBACK
Click Below to:
This Week's Circulars
To view money-saving ads...